Eagles Of Death Metal na zeven jaar terug met nieuw album
|
Jesse Hughes en Josh Homme, oprichters van de Amerikaanse rockband Eagles Of Death Metal hebben mooi nieuws naar buiten gebracht: op vrijdag 2 oktober verschijnt hun nieuwe album 'Zipper Down'. 'Zipper Down' is het vierde studioalbum van de band rond Queens Of The Stone Age-frontman Josh Homme en zanger/gitarist Jesse Hughes. Alle nummers op het album zijn geschreven door de twee vrienden (met uitzondering van Duran Duran's 'Save A Prayer') en alle instrumenten zijn door de heren zelf ingespeeld. Josh Homme nam de productie van 'Zipper Down' op zich.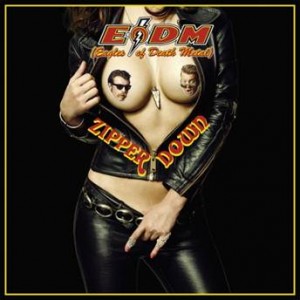 Het nieuwe album is de opvolger van 'Heart On' uit 2008. Daarvoor verschenen 'Peace Love Death Metal' (2004) en 'Death By Sexy' uit 2006. "The new album 'Zipper Down' really represents to me an attitude and philosophy of life," zegt Hughes over de nieuwe muziek. "One should not zipper up, they should zipper down and let it all hang out." Josh Homme vult zijn collega aan over de eerste single 'Complexity': "It's the musical equivalent of holding a lucky rabbit's foot with the unlucky rabbit still attached."
De Eagles Of Death Metal touren momenteel door Europa. Ruim een week geleden brak de rockband de tent af op het Pinkpop festival. Naast de aankondiging van het nieuwe album 'Zipper Down' maakten de twee ook bekend dat er behalve een grote Noord-Amerikaanse tour ook een terugkeer naar de Europese podia op de planning staat.