Graspop Metal Meeting 2017: Line-up compleet!
|

Met de toevoeging van 16 nieuwe namen is het programma van Graspop 2017 compleet. De Duitse metaltrots Scorpions staat op zondag 18 juni als headliner op Graspop Metal Meeting. Eerder werden Rammstein (vrijdag), Deep Purple (zaterdag) en Evanescence (zondag) als headliners aangekondigd. De 22e editie van het Belgische festival Graspop Metal Meeting 2017 vindt plaats van vrijdag 16 juni tot en met zondag 18 juni 2017.
De 16 nieuwe namen die de vijf podia van Graspop Metal Meeting 2017 zullen doen daveren zijn: Scorpions, As It Is, Battle Beast, Black Star Riders, Blue Öyster Cult, Code Orange, Coheed And Cambria, Graveyard, Helmet, Melechesh, Nothing More, Sepultura, Suicide Silence, Sum 41, The Dillinger Escape Plan, The Raven Age. Met deze mooie namen is de affiche voor vrijdag, zaterdag en zondag 16-17-18 juni compleet. Het tijdschema is hier  vinden.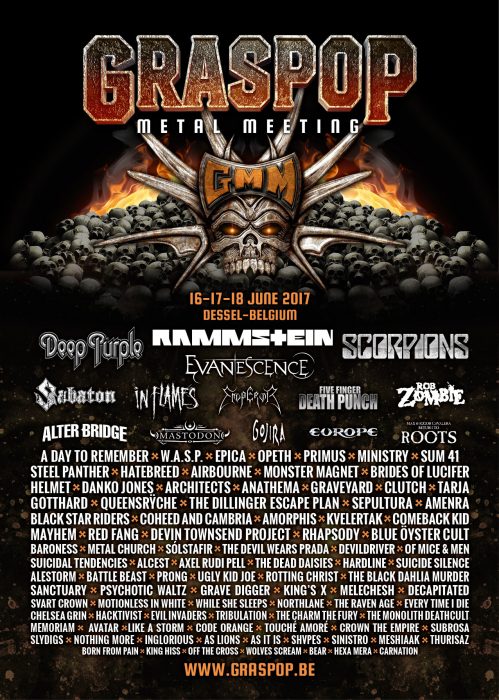 Alle 98 namen op een rijtje: A Day to Remember, Airbourne, Alcest, Alestorm, Alter Bridge, Amenra, Amorphis, Anathema, Architects, As It Is, As Lions, Avatar, Axel Rudi Pell, Baroness, Battle Beast, Black Star Riders, Blue Öyster Cult, Brides of Lucifer, Chelsea Grin, Clutch, Code Orange, Coheed And Cambria, Comeback Kid, Crown The Empire, Danko Jones, Decapitated, Deep Purple, DevilDriver, Devin Townsend Project, Emperor, Epica, Europe, Evanescence, Every Time I Die, Evil Invaders, Five Finger Death Punch, Gojira, Gotthard, Grave Digger, Graveyard, Hacktivist, Hardline, Hatebreed, Helmet, In Flames, Inglorious, King's X, Kvelertak, Like A Storm, Mastodon, Max & Iggor Cavalera – Return To The Roots, Mayhem, Melechesh, Memoriam, Meshiaak, Metal Church, Ministry, Monster Magnet, Motionless in White, Northlane, Nothing More, Of Mice & Men, Opeth, Primus, Prong, Psychotic Waltz, Queensrÿche, Rammstein, Red Fang, Rhapsody, Rob Zombie, Rotting Christ, Sabaton, Sanctuary, Scorpions, Sepultura, Shvpes, Sinistro, Slydigs, Solstafir, Steel Panther, SubRosa, Suicide Silence, Suicidal Tendencies, Sum 41, Tarja, The Black Dahlia Murder, The Charm The Fury, The Dead Daisies, The Devil Wears Prada, The Dillinger Escape Plan, The Monolith Deathcult, The Raven Age, Touché Amoré, Tribulation, Ugly Kid Joe, W.A.S.P., While She Sleeps.
Sum 41 verandert van dag en podium
De Canadese punkrockers van Sum 41 veranderen van speeldag op het festival. De band verhuist van zaterdag 17 juni naar de Jupiler Stage op zondag 18 juni als headliner.
Tickets & Info
Tickets voor Graspop Metal Meeting 2017 zijn te koop via ticketmaster.be en proximusgoformusic.be. VIP combitickets en VIP dagtickets voor vrijdag zijn uitverkocht. De laatste VIP dagtickets voor zaterdag en zondag zijn nu te koop.
Lees meer op https://www.graspop.be/nl/