Teenage Time Killers – Greatest hits, vol. 1
|

Teenage Time Killers is een echte supergroep of beter gezegd project. Opgestart in februari 2014 door gitarist Mick Murphy (My Ruin) en drummer Reed Mullin (Corrosion of Conformity). Zij vormen de basis en hebben het merendeel ingespeeld. De bandnaam is ontleent aan een nummer van de Britse punkband Rudimentary Peni dat op het album dan ook gecovered wordt. Het album 'Greatest Hits, vol. 1' is opgenomen in Studio 6060 van medebandlid Dave Grohl (Nirvana, Foo Fighters) en geproduceerd door John Lousteau samen met de kernleden Murphy en Mullin. Rise Records, gerund door BMG en gedistribueerd door Warner Music, tekende de band en brengt het album op 28 juli uit.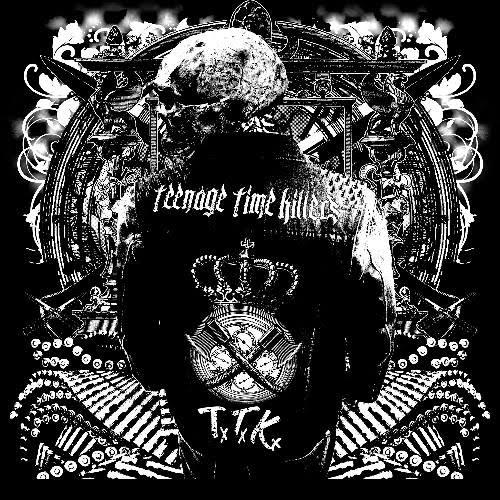 Met 24 nummers op een album moet je al gauw je leesbril opzetten om alles te kunnen lezen. Daarnaast zijn er nog meer gasten dan songs op het album aanwezig. Gelukkig tikken de meeste nummers 1.00 tot 3.00 minuten af waardoor het toch een compact album (48.19 min) is gebleven. Voordat ik het album opzette moest ik denken aan Stormtroopers of Death. Veel korte nummers op een album. Echter Teenage Time Killers is een allstar supergroep die oldschool punk speelt en geen hardcore à la Stormtroopers of Death. Ook heeft de band met alle gasten erop absoluut geen extra invloeden nodig heeft.
Vaak zijn supergroepen een garantie voor een tegenvallend album. Dat is hier niet echt het geval. Het album is interessant voor hedendaagse hardcore en punk liefhebbers die eens een trip down memory lane willen nemen. Geen poppunk zoals the Offspring, Greenday of Blink-182 maar oldschool punk zonder franje. Het album heeft een degelijke moderne krachtige productie meegekregen in tegenstelling tot de vaak rammelende albums van de bandleden.
Nog even een lijstje met een aantal bekende tot heel bekende medewerkers; Randy Blythe (Lamb of God), Corey Taylor (Slipknot), Dave Grohl/Pat Smear (Foo Fighters), Neil Fallon (Clutch), Jello Biafra (Dead Kennedys), Brian Baker (Bad religion), Lee Ving (Fear), Tommy Victor (Prong), Nick Oliveri (Queens of the Stone Age), Aron Beam (Red Fang), Mike Dean/Woody Weatherman/Karl Agell (Corrosion of Conformity), London May (Samhain) etc etc etc. Er zijn plannen om wat optredens op tv of elders te doen. Met zoveel muzikanten zijn er altijd wel 10 te vinden die effe tijd hebben.
Nummer 21, 22 en 23 staan al met andere zang op het album. Ze voegen in principe niets toe waardoor men beter een keuze had kunnen maken. Ik zou voor de versies met Reed Mullin gaan omdat deze meer punk in zich hebben maar dat is persoonlijk. Voor de rest luistert het album lekker weg maar mist het wat variatie. Het wordt wel mijn nieuwe album dat ik keihard aanzet als de hedendaagse incarnatie van disco mijn oren dreigt te vervuilen. (8/10) (Rise Records)
'Greatest Hits Vol. 1' songlijst met gastbijdrage:
01. 'Exploder'
Vocals: Reed Mullin
Featuring Pat Hoed (Bass), London May (Drums)
02. 'Crowned By The Light Of The Sun'
Vocals: Neil Fallon
Featuring Jim Rota (Guitar), Dave Grohl (Bass)
03. 'Hung Out to Dry'
Vocals: Randy Blythe
Featuring Mike Schaefer (Guitar), Dave Grohl (Bass)
04. 'Power Outage'
Vocals: Clifford Dinsmore
Featuring Dave Grohl (Bass)
05. 'Ode to Hannity'
Vocals: Jello Biafra
Featuring Mike Dean (Bass)
06. 'Barrio'
Vocals: Matt Skiba
Featuring Brian Baker (Guitar)
07. 'The Dead Hand'
Vocals: Reed Mullin
Featuring Woody Weatherman (Guitar), Dave Grohl (Bass)
08. 'Egobomb'
Vocals: Corey Taylor
Featuring Dave Grohl (Bass)
09. 'Plank Walk'
Vocals: Pete Stahl
Featuring Greg Anderson (Guitar), Dave Grohl (Bass)
10. 'Time To Die'
Vocals: Mike IX Williams
Featuring Greg Anderson (Guitar)
11. 'Days Of Degradation'
Vocals: Tommy Victor
Featuring Dave Grohl (Bass)
12. 'Clawhoof'
Vocals: Tairrie B. Murphy
Featuring Dave Grohl (Bass)
13. 'Big Money'
Vocals: Lee Ving
Featuring Pat Smear (Guitar & Bass), London May (Drums)
14. 'Devil In This House'
Vocals: Karl Agell
Featuring Dave Grohl (Bass)
15. 'Say Goodnight To The Acolyte'
Vocals: Phil Rind
Featuring Jason Browning (Guitar), Dave Grohl (Bass)
16. 'Ignorant People'
Vocals: Tony Foresta
Featuring Greg Anderson (Guitar), Nick Oliveri (Bass)
17. 'Son Of An Immigrant'
Vocals: Johnny Weber
Featuring Brian Baker (Guitar)
18. 'Your Empty Soul"
Vocals: Aaron Beam
19. 'Bleeding To Death'
Vocals: Vic Bondi
Featuring Dave Grohl (Bass)
20. 'Teenage Time Killer'
Vocals: Trenton Rogers
Featuring Greg Anderson (Guitar), Pat Hoed (Bass)
21. 'Ode to Hannity'
Vocals: Reed Mullin
22. 'Ignorant People'
Vocals: Reed Mullin
23. 'Time To Die'
Vocals: Reed Mullin
24. 'My revenge'
Vocals: Reed Mullin