Palace of the King – Valles Marineris
|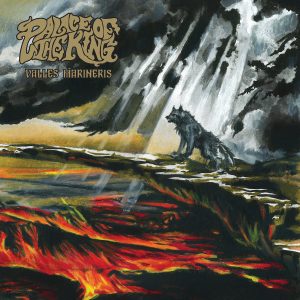 De wieg van Palace of the King stond in 2012 in Melbourne Australië. Palace of the King maakt klassieke, bluesy, soulvolle rock 'n roll. De band heeft echter evenveel gemeen met moderne bands als Jack White, Rival Sons en GraveYard als met klassiekers als Deep Purple, Led Zeppelin en Black Sabbath. Palace of the Kings is een van die bands waarbij werk-ethiek nog voorop staat. Ieder jaar een nieuw album en tussendoor touren tot de wielen van de tourbus aflopen.
In 2015 verscheen het debuutalbum 'White Bird – Burn the Sky' en op 15 juli 2016 vinden de heren het alweer tijd voor een opvolger: 'Valles Marineris'.
Het eerste wat opvalt bij het beluisteren van 'Valles Marineris' is de sterke funkinvloed. Draait 'Beyond the Valley' nog om een bluesy gitaarriff die gedragen wordt door funky grooves. In 'Black Cloud' klinkt de band bijna als Funkadelic in haar hoogtijdagen. Niet in het minst door de gastrol van de Engelse soulzangeres Mahalia. Ook 'Sick As A Dog' heeft een onweerstaanbare funky groove, met loodzware bassen en een hoofdrol voor het orgel.
Natuurlijk is Palace of the King in de eerste plaats een rock 'n roll band. De album opener 'Let the Blood Run Free' is daarvan een prachtig voorbeeld. Opwindende rock 'n roll aangejaagd door een psychedelisch orgel en klassieke "screaming" hardrock vocalen. In 'Bridges Of the Gods' klinkt de band als Airbourne of AC/DC met een orgel. 'We Are Vampires' wordt gegarandeerd een live knaller. Palace of the Kings klinkt hier als Black Sabbath on speed en je ziet de festivalweide al met geheven vuisten meebrullen met "We are the Vampires!".
Op het hoogtepunt van 'Valles Marineres', 'River of Fire', vallen de rock- en funkinvloeden prachtig samen. Drijvend op een mellow groove komt de intense zang extra hard binnen, zeker met de killer riffs van orgel en gitaar samen.
'Throw Me Tot he Wolves' is het meest duistere nummer op het album dat wordt gedragen door een dreigende killerrif en een op hol geslagen orgel.
Palace of the Kings is een van die bands die zorgen dat "Rock 'n roll will never die". De band kiest op 'Valles Marineris' voor een interessante invalshoek door een forse dosis funk aan hun bluesy rock 'n roll toe te voegen. Daarmee slaat de band twee vliegen in één klap: het geeft de band een sterk onderscheidende sound én de muziek wordt dansbaarder dan ooit.
'Valles Marineris' is een opwindende plaat vol rock, blues en funk. Het album belooft veel goeds voor de live shows van Palace of the Kings.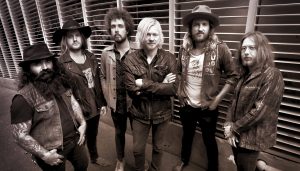 'Valles Marineris' wordt in Europa uitgebracht op 15 juli en in de rest van de wereld op 29 juli door Listenable Records (EU/UK) en Devil's Music Records (8/10)