Angel of Mercy – The Avatar
|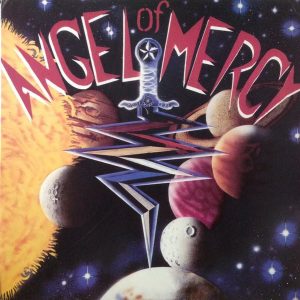 Soms moet je weleens heel diep in je geheugen graaien, wanneer je iets uit de jaren tachtig onder ogen krijgt. Dat is zeer zeker het geval bij de formatie Angel of Mercy. Het is een drietal muzikanten uit Las Vegas, Nevada, dat bestaat uit Kaign Sevenson (Bass, Guitar, Vocals), Deniz Derya Gallegos (Drums, Keyboards, Vocals) en David St James (Vocals, Guitar). In 1987 brachten zij, toen nog op LP, 'The Avatar' uit. Het gebeurde allemaal in eigen beheer, maar het heeft nooit geleid tot een deal met een platenmaatschappij.
Wel kreeg de LP een cultstatus en werden er bedragen van rond de 1000 euro voor betaald, totdat in 2018 het heavy metal label uit Ohio 'Shadow Kingdom' het wel ziet zitten om het uit te brengen. Als dubbel cd met op de tweede cd opnames van zeldzame studio sessies en een unreleased track.
Openingstrack 'In the Beginning' is een zeer matig nummer, maar dat is met het volgende nummer 'Angel Of Mercy' wel even anders. De heren kunnen geweldig spelen. De nummers 'Soul Searcher' en 'Break Away' zijn dan ook geweldig te noemen. David St James blijkt echter geen geweldige zanger te zijn, maar de solo's maken veel goed. Je hoort duidelijk dat de band invloeden heeft van Led Zeppelin en Black Sabbath, wat natuurlijk in dat tijdsbeeld past.
In het laatste nummer 'The Succubuss' klopt alles en het is dan weer jammer dat het niveau vaak wisselend is. Het bonusmateriaal op de tweede disk is rauwer, minder gepolijst, Maar voor wie de band omarmt is dit essentieel. Angel Of Mercy verdient zeker een tweede kans. Wanneer de marketing machine in 1987 wel goed had gewerkt was deze band misschien wel uitgegroeid tot een absolute topper. Wanneer je graag naar rockmuziek uit de jaren tachtig luistert zul je het zeker waarderen. En voor wie al bekend is met de band is de bonus cd een absolute must. (80/100) (Shadow Kingdom)
Tracklist cd 1:
Original The Avatar album
1. In the Beginning
2. Angel of Mercy
3. Chained to the World
4. Soul Searcher
5. Break Away
6. Metamorphosis
7. The Avatar
8. Victim of the Change
9. Journey to the Master
10. The Last Encounter
11. The Succubuss
Tracklist cd 2:
November 1983, Las Vegas Recording Studio
12. The Succubuss
13. Soul Searcher
14. The Avatar
15. The Last Encounter
Spring 1992, Abandoned Sessions IMR Studio
16. Enter the Abyss
17. In the Beginning
18. Angel of Mercy
19. Metamorphosis
Unreleased track from The Avatar sessions
(Intended as a lead-in to "Chained to a World")
20. The Journey Begins
2015 session, IMR Studio
21. Chained to a World