Nieuwe namen toegevoegd aan line-up van Scumbash #2
|

De organisatie van ScumBash heeft het ultieme kerstkado nu al in haar kerstsok: de legendarische Amerikaanse countrybilly band The Reverend Horton Heat komt volgend jaar naar Rotterdam voor een exclusieve show op ScumBash #2. Bovendien is ook bluegrass countryheld Bob Wayne bevestigd. Voor beide acts geldt dat dit hun enige Europese show in 2015 is.
Maar er is méér moois; ook het Britse punkinstituut Sham 69 en de Nederlandse ADHD-rockers John Coffey zijn bevestigd voor de tweede editie van dit nieuwe Rotterdamse rock-'n-rollavontuur dat op zaterdag 28 februari 2015 in de monumentale Van Nellefabriek in Rotterdam wordt gehouden.
"Mijn collega's en ik zijn op dit moment waarschijnlijk even de gelukkigste mannen op aarde", glundert Bertus van Schorem Haarsnijder en Barbier, de organisator van ScumBash. "Ik bedoel: The Reverend Horton Heat komt speciaal voor ons eigen feestje vanuit Dallas naar Rotterdam! Alsof dat niet genoeg is laat ook Bob Wayne weten dat hij graag van de party-partij is. En dan zijn we er nog niet. De Engelse oerpunkers Sham 69 – bekend van hun ultieme punkklassiekers Angels With Dirty Faces en If the Kids Are United – én rockwervelwind John Coffey zijn óók bevestigd. Man, man, we hebben zo echt even een borrel nodig hoor."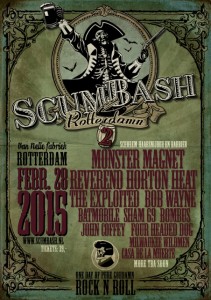 Met deze toevoegingen is de line-up van Scumbash #2, dat op 28 februari plaatsvindt in de Van Nellefabriek in Rotterdam, tot nu toe: Monster Magnet (USA), Reverend Horton Heat (USA), The Exploited (UK), Bob Wayne (UK), Four Headed Dog (NL), Batmobile (NL), Bombus (SE), Milwaukee Wildmen (NL) en Casa De La Muerte (NL).
Het programma is nog niet volledig; nieuwe namen worden binnenkort bekend gemaakt.