Scorpions viert 50e verjaardag met 50th Anniversary Deluxe Editions
|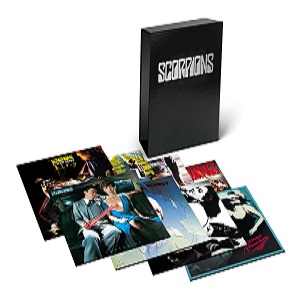 In 2015 is het precies 50 jaar geleden dat de legendarische Duitse rockband Scorpions werd opgericht. Om dit te vieren brengt de band op 6 november deluxe reissues uit van maar liefst acht albums die uitkwamen tussen 1977 en 1988. Naast opnieuw gemasterde tracks bevatten de reissues ongereleased materiaal van tv-optredens, interviews en liveshows.
Scorpions werd opgericht in 1965. Afkomstig uit Hannover, begon de band een reis die ze over de hele wereld zou leiden en ze de status van rockgoden zou opleveren. Het succes kwam niet zomaar aanwaaien. Het duurde welgeteld vier albums en onophoudelijk touren totdat de band in 1977 met producer Pieter Dierks in contact kwam. Daarmee namen ze tot 1988 acht studio albums op. Sindsdien heeft de band meer dan 100 miljoen albums wereldwijd verkocht.
In het decennium na de release van 'Taken By Force' (1977) en 'Tokyo Tapes' (1978) groeide de band uit tot supersterren in Japan, Europa, Noord- en Zuid-Amerika, maar ook in de voormalige Sovjet-Unie en Zuid-Oost Azië. De band produceerde in deze periode rock-anthems als Still Loving You, Rock You Like A hurricane, en Holiday.
Met de release van de 50th Anniversary Deluxe Editions viert de band al hun successen en opent ze een kluis aan tot voor kort nog niet eerder uitgebrachte songs, alternatieve versies, ruwe mixen en zeldzame live opnamen.
Scorpions over het project
"It's hard to summarise 50 years in words, but listening back to all those songs – many of them them previously unreleased – recorded in one of our most creative periods, really took us back in time. This was a very heartfelt project for all of us. It brought back great memories whilst we rediscovered our musical DNA by listening to the archives, selecting dozens of unreleased songs and early versions of well-known Scorpions anthems. We really worked on the material to improve the sound quality, but always taking great care to preserve its original feel."
De 50th Anniversary Deluxe Editions worden uitgebracht op BMG en gedistribueerd door SPV in Europa. Suburban Records verzorgt de distributie in de Benelux. Naast de Deluxe Editions verschijnt er ook een Limited Edition Vinyl Box.
Scorpions tourt op dit moment de wereld over met hun 50th Anniversary World Tour. They Rock You Like A Hurricane!