Black Sabbath brengt ultiem verzamelalbum uit
|

Black Sabbath is zonder twijfel de meest invloedrijke heavy metal band ooit. De band heeft het genre mede bepaald met baanbrekende platen zoals 'Paranoid', een album waar Rolling Stone magazine over schreef: "changed music forever" en ze noemde de band "the Beatles of heavy metal". Time Magazine noemde Paranoid "the birthplace of heavy metal".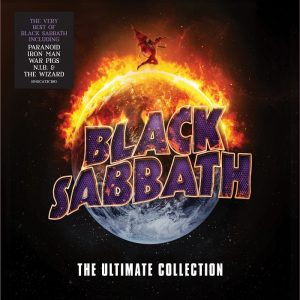 De band, die al meer dan 45 jaar live speelt en meer dan 75 miljoen albums verkocht waarvan maar liefst 15 miljoen in de US. In de UK werden 24 albums platina. In 2005 werd Black Sabbath ingewijd in de UK Music Hall of Fame en een jaar later in de Rock and Roll Hall of Fame. Ozzy Osbourne (zang), Tony Iommi (gitaar), Geezer Butler (bas), en Bill Ward (drums en percussie) begonnen de band in 1968 in Birmingham. In eerste instantie als Earth die heavy blues-rock speelden. Pas toen ze hun naam veranderden in Black Sabbath en occulte en horror achtige teksten met laag gestemde gitaren gingen combineren begon het succes en verkochten ze miljoenen albums in de jaren '70.
'The Ultimate Collection', die uitkomt op 28 oktober is samengesteld in overleg met de band en bevat 31 klassiekers zoals 'Paranoid', 'Iron Man', 'War Pigs', 'N.I.B.' en 'The Wizard' maar ook veel andere favorieten van de klassieke albums met Ozzy en vormt een perfect document voor elke Sabbath fan en elke muziekliefhebber met een liefde voor hardrock.
Andy Pearce (Motörhead, Deep Purple, Lou Reed, Iggy & The Stooges) heeft alle nummers op 'The Ultimate Collection' geremastered en deze verschijnt in verschillende formaten. Naast een 2CD en de digitale/HD downloads komt er ook een "Crucifold" 4LP box uit op 18 november. Zoals de naam al zegt wordt dit een uitvouwbare hoes in de vorm van een kruis.
CD Disc One Tracklist:
1. Paranoid
2. Never Say Die
3. Iron Man
4. Black Sabbath
5. Children Of The Grave
6. Fairies Wear Boots
7. Changes
8. Rat Salad
9. Sweet Leaf
10. War Pigs
11. Sabbath Bloody Sabbath
12. Hole In The Sky
13. Symptom Of The Universe
14. Spiral Architect
15. Rock 'N' Roll Doctor
CD Disc Two Tracklist:
1. Dirty Women
2. Evil Woman, Don't Play Your Games With Me
3. A Hard Road
4. Lord Of This World
5. Into The Void
6. Behind The Wall Of Sleep
7. Snowblind
8. Tomorrow's Dream
9. The Wizard
10. N.I.B.
11. Electric Funeral
12. Embryo
13. Killing Yourself To Live
14. Am I Going Insane
15. Wicked World
16. It's Alright
Vinyl Tracklist:
Side 1
1. Paranoid
2. Never Say Die
3. Iron Man
4. Black Sabbath
Side 2
5. Children Of The Grave
6. Fairies Wear Boots
7. Changes
8. Rat Salad
Side 3
9. Sweet Leaf
10. War Pigs
11. Sabbath Bloody Sabbath
Side 4
12. Hole In The Sky
13. Symptom Of The Universe
14. Spiral Architect
15. Rock 'N' Roll Doctor
Side 5
16. Dirty Women
17. Evil Woman, Don't Play Your Games With Me
18. A Hard Road
Side 6
19. Lord Of This World
20. Into The Void
21. Behind The Wall Of Sleep
22. Snowblind
Side 7
23. Tomorrow's Dream
24. The Wizard
25. N.I.B.
26. Electric Funeral
Side 8
27. Embryo
28. Killing Yourself To Live
29. Am I Going Insane
30. Wicked World
31. It's Alright
Digital Tracklists:
1. Paranoid
2. Never Say Die
3. Iron Man
4. Black Sabbath
5. Children Of The Grave
6. Fairies Wear Boots
7. Changes
8. Rat Salad
9. Sweet Leaf
10. War Pigs
11. Sabbath Bloody Sabbath
12. Hole In The Sky
13. Symptom Of The Universe
14. Spiral Architect
15. Rock 'N' Roll Doctor
16. Dirty Women
17. Evil Woman, Don't Play Your Games With Me
18. A Hard Road
19. Lord Of This World
20. Into The Void
21. Behind The Wall Of Sleep
22. Snowblind
23. Tomorrow's Dream
24. The Wizard
25. N.I.B.
26. Electric Funeral
27. Embryo
28. Killing Yourself To Live
29. Am I Going Insane
30. Wicked World
31. It's Alright