Twisted Tower Dire – Wars In The Unknown
|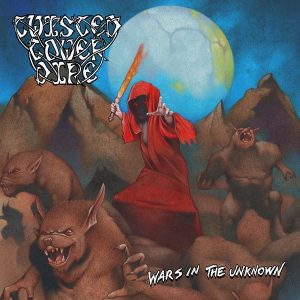 Deze Amerikaanse traditionele Heavy-Metal band wordt opgericht in 1995 als reactie op de in de jaren 90 heersende Grunge-Rock. Hun missie is het om traditionele Metal te laten horen. Verwacht dus geen vernieuwende dingen van deze band maar muziek geworteld in de jaren 80 met veel Maiden-invloeden. De band heeft te kampen gehad met diverse tegenslagen. Vooral het vertrek van zanger Tony Taylor in 2007 die de band noodgedwongen moet verlaten vanwege een niet aflatende depressie en zijn dood in 2010 door een fataal motorongeluk hakken er behoorlijk in. De vrijgekomen vacature wordt in 2007 ingenomen door Viper vocalist Jonny Aune.
Hun vijfde album 'Make It Dark' wordt opgedragen aan Tony Taylor. Dit is dus het zesde album van deze traditionele Heavy-Metal band. Het album opent met 'The Thundering', een lekker Metal-nummer barstensvol gitaarsolo's en Double-bass werk in het straatje van Helloween.
'True North' is een uptempo Metal nummer met een felle gitaarriff. Dit geldt ook voor het navolgende 'Tear You Apart' dat wel een versnellinkje hoger gespeeld wordt. Hierna wordt er wat gas teruggenomen op 'Light The Swords On Fire' wat me erg doet denken aan Apocrypha/Cacophony.
'And The Sharks Came Then' is het minste nummer van dit album, dit komt vooral door het zeikerige refreintje. De band herpakt zich weer met 'Riding The Fortress', een prima Metal-nummer met gitaarwerk om je vingers bij af te likken. 'Eons Beyond' is een rechttoe rechtaan Metal-nummer. 'A Howl In The Wind' vervolgt heel sterk, het beste nummer van dit album.
Het gaspedaal wordt weer volledig ingetrapt op 'The Beast I Fear'. Het album wordt afgesloten met de Mid-tempo stamper 'These Ghosts Can Never Leave'.
Conclusie: Houd je van Metal geworteld in de jaren 80, dan kun je deze CD met een gerust hart aanschaffen. Mijn beoordeling valt toch wat laag uit omdat ik vrees dat de markt voor dit soort gedateerde muziek niet echt groot is. Ook de productie klinkt jaren 80 wat ik persoonlijk ook een minpunt vindt.
(70/100) (No Remorse Records)
Track List Wars In The Unknown:
1 The Thundering (4:14)
2 True North (4:33)
3 Tear You Apart (3:33)
4 Light The Swords On Fire (3:40)
5 And The Sharks Came Then (4:56)
6 Riding The Fortress (4:06)
7 Eons Beyond (3:33)
8 A Howl In The Wind (4:28)
9 The Beast I Fear (3:55)
10 These Ghosts Can Never Leave (4:05)
Line Up Twisted Tower Dire:
Scott Waldrop – Guitar
David Boyd – Guitar
Jonny Aune – Vocals
Marc Stauffer – Drums
Jim Hunter – Bass
Discografie:
The Curse Of Twisted Tower (1999), The Isle Of Hydra (2001), Battle Hymns To The Pantheon (compilatie-album 2002), Crest Of The Martyrs (2003), Netherworlds (2007), Make It Dark (2011)