Black Star Riders – Another State Of Grace
|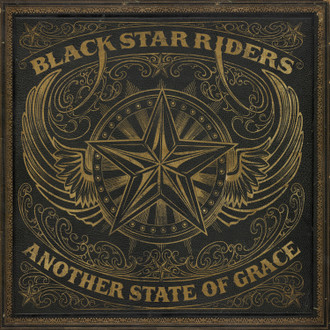 Er is in het verleden volgens mij nog nooit een recensie voor een Black Star Riders album geschreven waarin de naam Thin Lizzy niet vermeld werd! Ook bij dit (inmiddels vierde) album 'Another State Of Grace' zal het niet anders zijn.
Vreemd is dit niet natuurlijk, aangezien dat Thin Lizzy gitarist Scott Gorham in 2012 vanuit deze band samen met gitarist Damon Johnson, Black Star Riders oprichtte. Deze Johnson heeft inmiddels de band verlaten voor een solo carriere, en is op dit nieuwe album vervangen door Christian Martucci ( oa. Stone Sour)
Je hoort dat de band op zoek is naar een eigen geluid, wat ze ook aardig is gelukt.  Luister maar eens naar de stevige rockers; 'In the Shadow of The Warmachine', 'Underneath The Afterglow', of de prachtige ballad 'Why Do You Love Your Guns'. Uiteraard is de vibe van het magische Thin Lizzy nog ruimschoots aanwezig, middels het titelnummer 'Another State of Grace', waar  een heerlijk Keltisch Gary Moore sausje overheen gegoten is.
Bij het lekker knallende nummer 'Standing in the Line of Fire' probeert zanger Ricky Warwick toch wel heel erg als Phil Lynott te klinken, wat eigenlijk totaal niet storend is.
'Another State of Grace' is een heerlijk en degelijk (Classic) Rock album geworden waar je de Twin guitars album om je oren vliegen, het luistert erg lekker weg! Top Plaatje! 10 November spelen ze samen met Wayward Sons en Diamond Head in De Pul in Uden. Gaat dat zien! (80/100)
Track list Another State Of Grace
1 – Tonight The Moonlight Let Me Down
2 – Another State Of Grace
3 – Ain't The End Of The World
4 – Underneath The Afterglow
5 – Soldier In The Ghetto
6 – Why Do You Love Your Guns?
7 – Standing In The Line Of Fire
8 – What Will It Take?
9 – In The Shadow Of The War Machine
10 – Poisoned Heart
11 – Candidate For Heartbreak (bonus)
Line up Black Star Riders
Ricky Warwick – Guitar, Vocals
Scott Gorham – Guitar, Vocals
Christian Martucci – Guitar, Vocals
Robbie Crane – Bass guitar, Vocals
Chad Szeliga – Drums, percussion