Bleed from Within – Fracture
|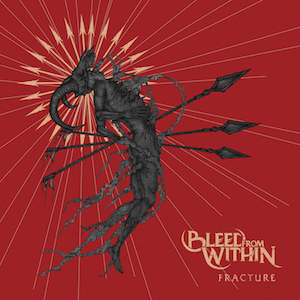 Metalcore is een van de nieuwere en groeiende genres binnen metal, ondanks dat het ook vaak kritiek krijgt van menig traditioneler metal liefhebber. Het jonge kindje, binnen de diverse subgenres, heeft toch al wat grote namen voortgebracht; Killswitch Engage, Lamb of God, Trivium en Parkway Drive.Het Schotse Bleed from Within is nog niet zo bekend bij het grote publiek, maar daar zou zomaar eens verandering in kunnen komen…
Fracture' is echt zo'n album dat je lekker opzet, terwijl je zware ijzers tilt in de sportschool , om pr's te verbreken.
Het artwork is gemaakt door Davie Provan, de bassist van de band.De openingstrack 'The End of all we know' knalt er meteen lekker in met typische metalcore elementen; screams, gezongen refreinen, groovy ritmes, melodische riffs,dubbele bass drums en breakdowns.Deze lijn zet zich voort in nummers als: 'Into nothing', 'Fall away', 'Night crossing' (inclusief een solo van Matt Heafy) en het meest groovy nummer 'For all to see'. Het slotnummer 'A Depth that no one dares' lijkt een samenvatting te zijn van de verschillende stijlen op het album.
Er wordt vooral geëxperimenteerd met verschillende ritmes en hier en daar electronische elementen.Scott Kennedy's stem doet denken aan een jonge Winston McCall. Ondanks de agressief klinkende zang heeft het album juist een positievere toon. De albumtitel, wat in het Nederlands breuk betekent, refereert naar het willen breken met hun eigen geschiedenis.
"We spent years dwelling on our negative past," zegt Richardson. "unable to break free from the frustrations of people holding us back. 'Fracture' is a reference to breaking away from the negative, leaving a poisonous past behind us. On this album, we've looked at emotions that we've felt as a group and used the songs as a vessel to move on. There is a degree of honesty that we haven't really reached before. This album tells the story of the darkest moments, and our brightest in recent times."
'Fracture' is een intens modern metal album met ruimte voor experimentatie. Een goede kansmaker om een plek in de top 10 jaarlijst van modern metal albums te veroveren. (87/100)(Century Media)
Tracklist
01. The End of All We Know
02. Pathfinder
03. Into Nothing
04. Fall Away
05. Fracture
06. Night Crossing
07. For All to See
08. Ascend
09. Utopia
10. A Depth That No One Dares
Line-up
Davie Provan – Bass
Scott Kennedy – Vocals Craig 'Goonzi' Gowans – Guitar Steven Jones – Guitar
Ali Richardson – Drums