Run The Jewels releasen hun tweede album 'Run the Jewels 2'
|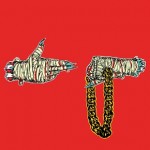 Run The Jewels (El-P en Killer Mike) zetten afgelopen vrijdag hun tweede album 'Run The Jewels 2′ gratis online. De reacties van fans waren even enthousiast als hilarisch, met foto's van brandende iPhones, laptops en autos die in de fik waren gevlogen na het afspelen van het album.
Hun gelauwerde debuut uit 2013 was een bedankje voor de fans, en nu doen de heren het dunnetjes opnieuw door Run The Jewels 2 gratis aan te bieden. Ook zal het album als digipack CD met poster en stickers en als limited edition vinyl LP met handgetekende poster en sticker vel uitkomen.
Killer Mike's southern flow en El-P's intelligent-paranoïde wordplay vormen een verpletterende combi. Na de release in 2013 volgde wereldwijde lofzang in de media (Pitchfork riep het uit tot één van de beste albums van het jaar) en een bijna naadloze tour in de US en Europa. Op opvolger Run The Jewels 2 doet een opvallend indrukwekkende lijst aan gasten mee: Rage Against The Machine frontman Zack de la Rocha, Travis Barker van Blink 182, Diane Coffee van Foxygen en Boots, de producer van Beyoncé's zelfgetitelde album uit 2013. Net als bij het debuut zijn de beats overdonderend en de 808 bass genadeloos. Eerste single 'Blockbuster Night Part 1' werd dan ook door Pitchfork benoemd tot Best New Music.
Run The Jewels komen op zaterdag 20 december naar Tivoli Vredenburg – Utrecht