Monster Magnet – Milking the Stars: a re-imaging of Last Patrol
|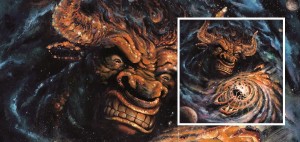 Monster Magnet is in 1989 opgericht in Red Bank New Jersey door Dave Wyndorf (vocals and guitar), John McBain (guitar) en Tim Cronin (vocals and drums). De band was in haar begindagen getooid met een groot aantal namen waaronder 'Dog of Mystery', 'Airport 75', 'Triple Bad Acid' en 'King Fuzz' tot besloten werd tot de naam 'Monster Magnet', gebaseerd op een populair stuk speelgoed uit de jaren zestig. De muziek van Monster Magnet is sterk beïnvloed door de seventies spacerock en heavy metal van onder andere Black Sabbath, Deep Purple en Hawkwind. Bovendien is zanger Dave Wyndorf een groot fan van zestigerjaren comics, wat de vele referenties naar science fiction in zijn teksten verklaart.
Zoals de titel van het nieuwste album van Monster Magnet al verraadt is het niet los te zien van 'Last Patrol', de band's voorlaatste album uit 2013. Monster Magnet's voorman Dave Wyndorf zegt zelf over het album: "Milking the Stars is a 're-imagined' version of Last Patrol featuring four new songs and live tracks. This was a happy experiment for me. It's not a re-mix record by the current definition. It's more like Last Patrol in a "what if?" style alternate reality. "What if these songs were recorded in 1968?" "What would happen if I turned a pretty song into an angry one?"
Het album opent met een volledig nieuw nummer, het instrumentale 'Burn Down the Circus', een lang gerekte space jam. 'Mindless Ones '68' is een sixties versie van 'Mindless Ones', 'No Paradise for Me' is een duistere versie van 'Paradise'. Met deze nummers is op zich niks mis. Maar wat mij betreft voegen ze niet zo veel toe aan 'Last Patrol' dat al een meesterwerk is. De uitzondering op deze regel is wat mij betreft 'The Duke', waarvan de nieuwe versie net wat scherper is en harder binnenkomt dan het origineel.
'Milking the Stars' bevat twee in de "Ancienne Belgique" in Brussel opgenomen livetracks: 'Last Patrol' en de Donovan cover 'Three Kingfishers'. Wat mij betreft zijn dit de prijsnummers van het album; freaky, knetterhard en nog spaceyer dan de studio uitvoering.
'Milking the Stars: a re-imaging of Last Patrol' is een fijne plaat, alleen voegt het wat mij betreft niet genoeg toe aan het al briljante album Last Patrol. De die-hard fan zal het niet met mij eens zijn en dit album is dan ook met name aan hen besteedt. Voor de gemiddelde stoner liefhebber zou een ep met daarop 'The Duke' en de briljante live versies van 'Last Patrol' en 'Three Kingfishers' het mooist zijn. (7/10) (Napalm records)