Of Mice & Men (Melkweg Amsterdam, 13-3-2015)
|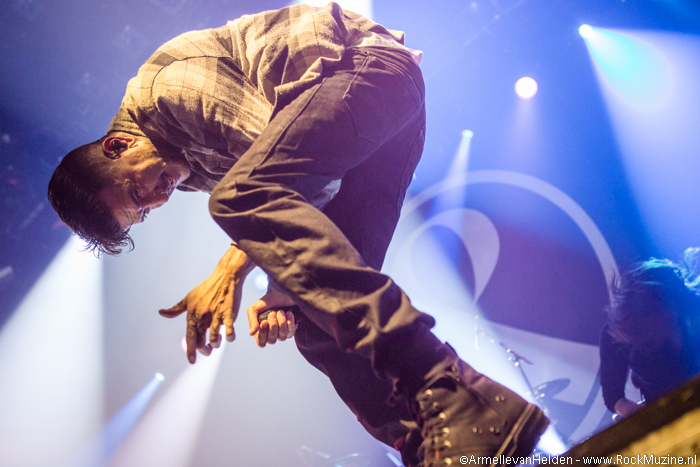 Of Mice & Men is een Amerikaanse Metalcore / nu metalband uit California, die bestaat uit zanger Austin Carlile, bassist Aaron Pauley, de gitaristen Alan Ashby en Phil Manansala en drummer Valentino Arteaga. Op 20 februari 2015 verscheen op Rise Records het album 'Restoring Force: Full Circle', de opvolger van het succesvolle 'Restoring Force' (2014). Vanavond staan zij in een uitverkochte Melkweg in het kader van de Full Circle (Europe) tour.
Volumes is een Amerikaanse metalcore band uit Californië. Zij stonden tijdens de Amerikaanse tour van Of Mice & Men ook al in het voorprogramma. Daarnaast hebben zij ook getoerd met Crown the Empire. Ook The Amity Affliction is een metalcore band, maar dan afkomstig uit Australië. De fans van deze energieke band zingen vol overgave mee, terwijl dit nog maar een van de twee voorprogramma's is.
Eigenlijk kan ik redelijk kort zijn over het optreden van Of Mice & Men: GAAF! Wat een energie en de mooie stemmen van Austin en bassist Aaron, die veel solo-stukken heeft. Alleen is de circlepit die Austin verscheidene malen vroeg jammerlijk mislukt. Het leek de gehele avond al niet op een moshpit, laat staan op een circlepit. De nieuwe nummers hebben de overhand van wat we vanavond live horen: 'Broken Generation', 'Feels Like Forever', 'Bones Exposed', 'Identity Disorder', ' You're Not Alone', 'Glass Hearts' ,'Another You', 'Would You Still Be There' en 'Public Service Announcement', allemaal van het nieuwste album 'Restoring Force: Full Circle'. Een mooie avond, die voor herhaling vatbaar is!