Nieuw Ghost-album 'Meliora' gratis te streamen!
|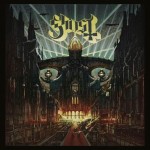 'Meliora', het derde album van de Zweedse occulte rockband Ghost, kan in zijn geheel gestreamd worden op internet. Het album, dat op 21 augustus via Loma Vista Recordings, uitkomt is de opvolger van 'Infestissumam' uit 2013.
Ghost's preview-show van 'Meliora' op 3 juni in de Doom in Linköping was het live debuut van de nieuwe zanger, Papa Emeritus III, de drie maanden jongere broer van Ghost's vorige frontman, Papa Emeritus II. Ghost gaat komende herst met hun 'Black To The Future' op tournee in Noord-Amerika. De processie Start op 22 september in The Fillmore in Washington, D.C.
Ghost – 'Meliora' track listing:
01. Spirit
02. From The Pinnacle To The Pit
03. Cirice
04. Spöksonat
05. He Is
06. Mummy Dust
07. Majesty
08. Devil Church
09. Absolution
10. Deus In Absentia