Therion-master Christofer Johnsson komt met nieuw project
|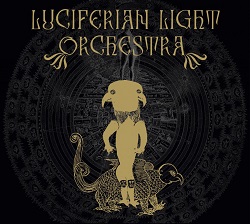 Christofer Johnsson, het meesterbrein van Zweedse symphonische metalband Therion, schrijft al een tijd nummers geïnspireerd door zijn voorliefde voor jaren '70 muziek en occultisme. Omdat deze te retro klonken voor Therion, zijn ze nooit eerder opgenomen.
Met Luciferian Light Orchestra kan Christofer eindelijk deze kant van zichzelf in het zonnetje (of maanlicht) zetten en heeft hij een plaat gemaakt die klinkt als een 70's versie van Therion. Denk aan de occulte vibes en thema's zoals je gewend bent van The Devil's Blood, Purson en Uncle Acid & the Deadbeats.
Het zelfgetitelde album is door Christofer zelf opgenomen in de Adulruna Studio en gemixt door Lennart Östlund (Led Zeppelin, ABBA) in Polar.