Rick Rozz, The End tekent bij FDA Rekotz
|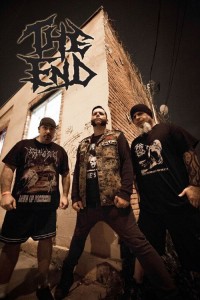 The End is een Amerikaanse death metal band Altamonte Springs, Florida en is ontstaan in 2015 na het definitief opbreken van een andere Amerikaanse death metal band Massacre. Mede oprichter en gitarist Frederick DeLillo, wellicht beter bekend als Rick Rozz, heeft in zijn carrière eerder aan de wieg gestaan van een nieuwe band. Zo was hij behalve bij Massacre (samen met Terry Butler) ook mede verantwoordelijk voor de oprichting van de cultband Death. Voor dit nieuwe project heeft Rick drummer Mike Mazzonetto (o.a. ex-Massacre) en zanger / bassist Michael Grim (Death Before Dying, ex-Embodiment) aan zijn zijde en na een demo, 'Crawling Back To Life', begin dit jaar verschijnt deze zomer de EP 'Age Of Apocalypse'.
Inmiddels is bekent geworden dat de band een platen contract heeft afgesloten bij het Duitse label FDA Rekotz.
Rick over het tekenen:
"I would like to thank you Rico (FDA) for having faith in The End, and giving us the chance to get our music out to the masses, and also to Mike and Michael for both your talents, and great friendships, salud… to making great metal music together, we have a supreme team, much love and respect, Until THE END…"
RockMuZine heeft via Rick Rozz al beslag weten te leggen op de demo versie van de EP 'Age Of Apocalypse' en hebben deze voorzien van een recensie en deze is hier te lezen.