Nieuw album Steel Panther verschijnt in februari
|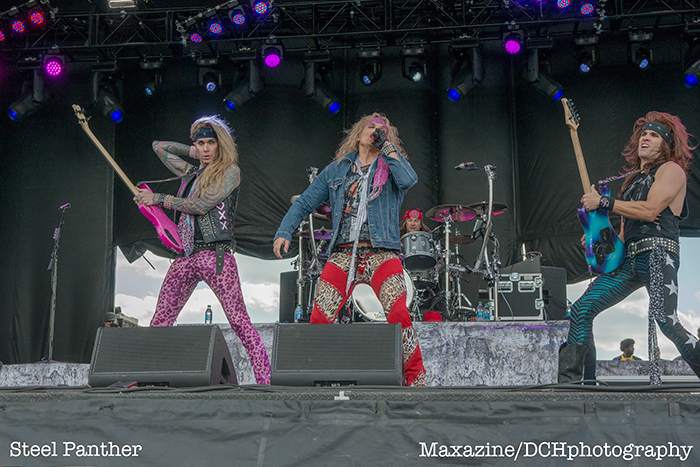 Terwijl Steel Panther, de glamrock band die erom bekend staat wereldwijd de harten van vriendinnen en echtgenotes te veroveren, op dit moment door Duitsland tourt, heeft het viertal aangekondigd dat het nieuwe album 'Lower The Bar' op 24 februari 2017 gaat uitkomen. 'Lower The Bar' is het vierde studioalbum van Steel Panther en de opvolger van 'All You Can Eat' uit 2014.
Om dit nu al historische moment in de geschiedenis van de rock & roll passend luister bij te zetten en alle 'fanthers' te bedanken, heeft Steel Panther de video voor de eerste single 'She's Tight' online gezet. 'She's Tight' is een geseksificeerde versie van het Cheap Trick nummer uit 1982. In de video zijn cameo's weggelegd voor Robin Zander van Cheap Trick, Bobbie Brown, Paris Michael Jackson (inderdaad, de dochter van) en Tony Palermo van Papa Roach. Steel Panther voorman Michael Starr: "Cheap Trick was one of my favorite bands when I was younger. I'm so proud to have recorded this track for our new album and also to have Robin Zander himself sing with me on the song. It's like a dream come true."
Eerder dit jaar bracht Steel Panther 'Live From Lexxi's Mom's Garage' uit, de eerste film van het viertal dat bestaat uit een tien nummers tellend akoestisch concert afgewisseld met komische scènes. Op dit moment tourt Steel Panther door Europa en doet op 13 oktober 013 in Tilburg aan.
De band is in 2000 opgericht en bestaat uit Michael Starr (zang), Satchel (gitarist), Lexxi Foxx (bass) en Stix Zadinia (drummer). Ze komen uit Los Angeles, het epicentrum voor rock & roll in al zijn losbandigheid en glamour. Steel Panther is uitgegroeid tot de ultieme party band, die virtuoze hardrock combineert met parodieën en extreem goede looks. Steel Panther bracht tot nu toe drie studioalbums uit, tourde meerdere malen de wereld over, heeft een platina YouTube-status en trad in eigen land in alle grote TV-show op waaronder Jimmy Kimmel Live, Larry King Now en FOX NFL Sunday.