Pyriphlegethon – The Murky Black of Eternal Night
|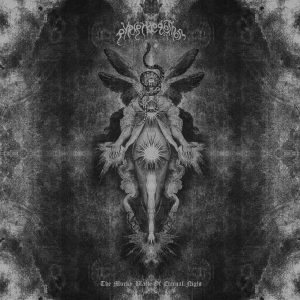 Pyriphlegethon is een Nederlandse black metal band afkomstig uit het Friese Drachten. De band is opgericht in 2014 en bestaat uit alleen uit multi instrumentalist Maurice de Jong. Na een demo in datzelfde jaar verscheen het debuut album, 'Night of Consecration', in 2015. Verscheen debuut plaat nog in eigen beheer, de opvolger 'The Murky Black of Eternal Night' verschijnt op 14 april via Iron Bonehead Productions.
Het album opent met melodieuze toetsen in het intro 'Curse Of The Old Coffin' alvorens we echt onderweg gaan met 'Monument Of Death'. Een nummer met sterke, schreeuwerige, vocalen waarbij de toetsen incidenteel weer wat melodie brengen. Wat opvalt is dat de drums niet lekker uit de verf komen bij dit eerste nummer. Bij het nummer 'Funeral Bells' is het geluid van de drums hoorbaar beter, de bekkens komen beter naar voren en natuurlijk zijn de toetsen ook hier weer aanwezig. Vocaal klinkt het lekker met enerzijds de schreeuwen en anderzijds de zware grunts.
Lekkere up-tempo nummers als 'The Serpent's Tongue', 'The Murky Black Of Eternal Night' en afsluiter 'Night On The Black Mountain' volgen, nummers die lekker in het gehoor liggen. Zonder enige meerwaarde is het nummer 'Return To The Tomb' waarbij louter toetsen te horen zijn. Sterke nummers zijn vooral de mid-tempo nummers 'Summoning Ancient Evil' met doom invloeden en het nummer 'Cursed Blood'.
Maurice de Jong heeft mijn zijn solo project Pyriphlegethon geen onaardig album gebracht, jammer is wel dat de drums niet overal even goed uit de verf komen. Dit heeft overigens niets met de drum capaciteiten van Maurice te maken maar meer met de opnames.
(70/100, Iron Bonehead Productions)
Tracklist:
1. Curse Of The Old Coffin
2. Monument Of Death
3. Funeral Bells
4. The Serpent's Tongue
5. Summoning Ancient Evil
6. Return To The Tomb
7. The Murky Black Of Eternal Night
8. Cursed Blood
9. The Coldest Grave
10. Night On The Black Mountain