Sick Of It All, No Warning, Slapshot en Stars and Stripes toegevoegd aan line-up The Sound Of Revolution 2017
|

Vandaag kunnen we niemand minder dan publieksfavoriet Sick Of It All en het uit Canada afkomstige No Warning bekendmaken voor de tweede editie van The Sound Of Revolution. En ook de Amerikaanse bands Slapshot en Stars and Stripes zijn bevestigd voor het hardcore punk festival, wat dit jaar plaatsvindt op zaterdag 4 november in Klokgebouw Eindhoven. Eerder waren Cro-Mags, H2O, Cold World, Lion's Law, Wisdom In Chains, Knuckledust, Strength For A Reason en No Turning Back reeds aangekondigd.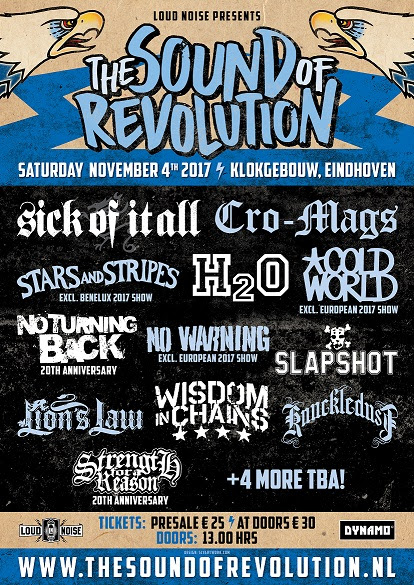 Sick Of It All vierde vorig jaar zijn dertigjarig bestaan zullen als headliner spelen op The Sound Of Revolution. Verwacht veel klassiekers van 'Blood, Sweat and No Tears', 'Just Look Around', 'Scratch The Surface' en 'Built To Last'. Het Canadese No Warning komt over voor een exclusieve Europese show. No Warning bracht in 2002 hun debuutalbum Ill Blood uit en deze wordt nog altijd gezien als een moderne klassieker. Slapshot en Stars and Stripes, beiden afkomstig uit Boston, beiden legendarisch en ze hebben ook nog eens dezelfde frontman! Slapshot, begonnen in 1985, was direct een band waar iedereen het in die tijd over had. De band viel op vanwege de leden van andere bekende hardcore en punk bands en natuurlijk hun energieke en agressieve live shows. Jack Kelly aka Choke, de frontman van Slapshot, richtte in 1989 een Oi-punk project op met de naam Stars and Stripes. Met deze band wilde Choke een eerbetoon brengen aan de Britse Oi-punk scene. 'Shaved For Battle' is de debuutplaat van de band uit 1989. Stars and Stripes speelt op The Sound Of Revolution een exclusieve Benelux show.
Aan het programma van The Sound Of Revolution 2017 worden binnenkort nog vier namen toegevoegd.
De line up tot nu toe bestaat uit: Sick Of It All (USA), Cro-Mags (USA), Stars and Stripes (USA), H2O (USA), Cold World (USA), No Turning Back (NL), No Warning (CAN), Slapshot (USA), Lion's Law (FR), Wisdom In Chains (USA), Knuckledust (UK), Strenght For A Reason (USA)
Zaterdag 4 november 2017
Klokgebouw Eindhoven
Deuren open: 12.00 uur
Aanvang: 13.00 uur
Ticketprijs: € 25 (excl. servicekosten)
Kaartverkoop via www.ticketmaster.nl