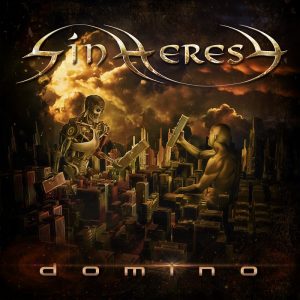 De Italiaanse formatie Sinheresy , in 2010 waren ze nog een Nightwish cover band , heeft zich flinkt door ontwikkelt. Na een EP in 2011 en een eerste full album in 2013 is de band vol inspiratie aan de slag gegaan voor hun derde werkstuk. De band werd in het najaar van 2016 nog door Tarja Turunen op sleeptouw genomen als support act in de Shadow show tour. In het female fronted wereldje dat steevast aangevoerd word door Within Temptation, Epica en Delain is het een komen en gaan van bands. Sinheresy timmert flink aan de weg en nu heeft de band bij Scarlet Records hun tweede album, 'Domino', kunnen maken.
Het album opent met het nummer 'Domino' en zoals bij bijna alle nummers op het album is de perfectie tussen de vocalen van Cecillia Petrini en Stefano Sain verbluffend goed. En er wordt bijzonder goed gespeeld, je hoort prachtig gitaar werk en ook de drums en bass zijn uitstekend op het album.
Ook 'Star Dome' en 'Without a Reason' zijn uitstekende songs. 'My only faith' is de eerste single die gelanceerd word. 'Unspoken Words' en 'Under youre skin' zijn eveneens hoog van kwaliteit en wat heel prettig is, naarmate het album vordert worden de songs steeds sterker. De ballad 'The Island of salt and grass' is een pareltje, het laat horen hoe goed alles tot een geheel gesmeed is. 'Ocean of deception' en 'Believe' zijn de sterkste nummers van het album en er word heel subtiel afgesloten met 'Another Life'.
Met 'Domino' heeft Sinheresy een album gemaakt dat behoort tot de top in hun genre.
(85/100, Scarlet Records)
Tracklist :
01 – Domino
02 – Star Dome
03 – Without A Reason
04 – My Only Faith
05 – Unspoken Words
06 – Under Youre Skin
07 – The Island Off Salt And Grass
08 – Ocean Of Deception
09 – Believe
10 – …Another Life