De bijna vergeten klassieker: Judge – Bringin' It Down
|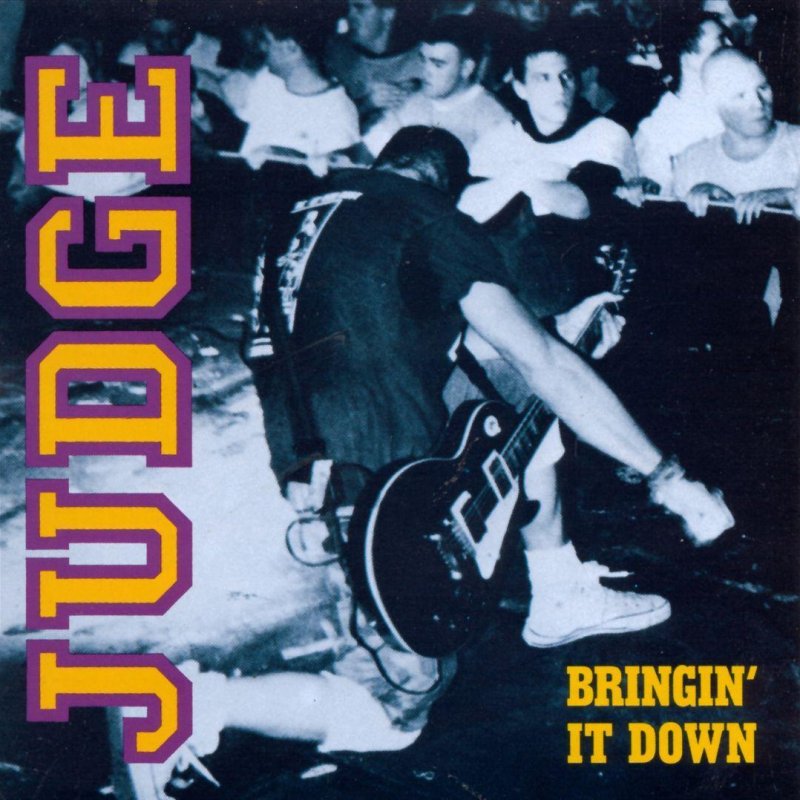 Judge – Bringin' It DownJudge is een "straight edge" hardcore band uit New York opgericht in 1987 door Youth of Today guitarist John "Porcell" Porcelly, en voormalig Youth of Today drummer Mike "Judge" Ferraro. Na het uitbrengen van de EP 'New York Crew' dat via Porcell's label Schism verscheen, verscheen in 1989 de debuut full-length 'Bringin' It Down'.
De plaat opent met het nummer 'Take Me Away' en wat onmiddellijk opvalt is dat dit andere koek is dan wat de heren ooit gedaan hebben in bands als Youth of Today. De rauwe hardcore punk heeft plaats gemaakt voor hardcore met duidelijke metal invloeden. Een pakkende trage riff vormt de opbouw naar een pittige hardcore song. Het concept van de plaat is "straight edge". Mike Judge verklaarde later in de media dat met opzet een hardere koers was gevaren in de strijd tegen rassenhaat, alcohol-en drugsgebruik na de kritiek op teksten van Youth Of Today. Heerlijke krakers als 'The Storm' een nummer dat de strijd aan gaat met de rassenhaat, de tekst die met een enorme passie op je wordt afgevuurd is geweldig:
"THIS STORM IS GONNA WIPE AWAY
WIPE AWAY THE INSINCERE
NO MORE WHITE, NO MORE BLACK
NO MORE BARRIERS, NO MORE TRAPS"
Opvallende nummers zijn verder de up-temp kraker 'Hear Me', het prekende 'Like You' of het nummer 'Fed Up', dat drugs en alchohol gebruikers onder vuur neemt.
'Bringin' It Down' is een heerlijk hardcore plaat, fris en vernieuwend. De metal invloeden in combinatie met de hardcore agressie is subliem.
Judge stopte in 1991, een jaar na het verschijnen van de EP 'There Will Be Quiet…', naar verluidt was vooral Mike de agressie in de zaal zat. Mike Judge vervolgde zijn carrière in de bluesrock band Mike Judge & Old Smoke, de anderen waren te horen in verschillende hardcore projecten. In 2013 waren er de eerste reünie optredens in New York en in 2016 gaf de band een geweldig optreden op het Nederlandse festival The Sound Of Revolution in Eindhoven.