Dimmu Borgir – Forces Of The Northern Night
|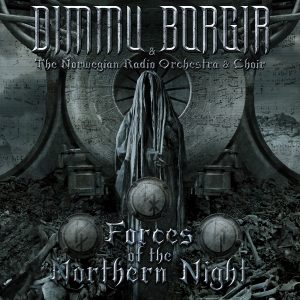 De noorse band Dimmu Borgir leek van de aardbodem verdwenen te zijn. In 1994 kwam hun debuut 'For All Tid' uit, en sindsdien verscheen er met enige regelmaat nieuw materiaal van de heren. Totdat 'Abrahadabra' verscheen in 2010. Sindsdien bleef het angstaanjagend stil rond de band. Hun populariteit was tot grote hoogte gestegen, al was hun werk stilaan wel veel commerciëler geworden. Ineens was daar het het nieuws dat Dimmu Borgir in 2017 met een nieuw album op de proppen gaat komen.
En bovendien is er nu plots 'Forces Of The Northern Night', een dubbelalbum van een registratie, opgenomen in Oslo 2011. Op het podium samen met een koor en het noorse radio orkest (Kringkastingorkestret). Bij elkaar een gigantische groep mensen die uit bijna 100 personen bestaat.
De eerste cd is het rustigst van de twee, Het koor krijgt alle ruimte van de band, het zijn bijna allemaal nummers van hun laatste album die voorbijkomen. Op 'Gateways' doet Agnete Kjølsrud (Djerv) mee.
Op de tweede schijf staan de krakers. Na opener 'Vredesbyrd' volgen 'Progenies Of The Great Apocalypse' en 'The Serpentine Offering'. 'Fear And Wonder' is weer voor het orkest, en na het rustpuntje volgt het laatste drieluik 'Kings Of The Carnival Creation', 'Puritania' en 'Mourning Palace'. Er wordt orkestraal afgesloten met 'Perfection Of Vanity'.
De show verschijnt in alle denkbare vormen die er maar zijn, 2bluray, 2dvd, dubbel LP, waarbij opgemerkt moet worden dat er dan de beeldregistratie van de 2012 Wacken show bij zit. Nu hopen dat de band vaart gaat maken met het nieuwe album, want hoewel de fans met dit fantastische document weer even vooruit kunnen, is zeven jaar wachten wel heel erg lang.
(90/100, Nuclear Blast)
Tracklist:
01. Xibir (orchestra)02. Born Treacherous
03. Gateways
04. Dimmu Borgir (orchestra)
05. Dimmu Borgir
06. Chess With The Abyss
07. Ritualist
08. A Jewel Traced Through Coal
09. Eradication Instincts Defined (orchestra)
10. Vredesbyrd
11. Progenies Of The Great Apocalypse
12. The Serpentine Offering
13. Fear And Wonder (orchestra)
14. Kings Of The Carnival Creation
15. Puritania
16. Mourning Palace
17. Perfection Or Vanity (orchestra)