Bloodlust – At the Devil's Left Hand
|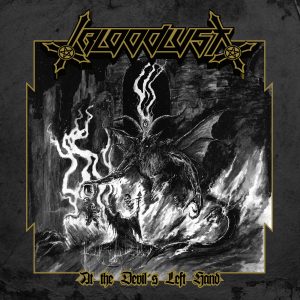 De Australische blackened thrash metal band Bloodlust komt op 24 augustus met het tweede album 'At the Devil's Left Hand'. De band, opgericht in 2011, bracht na wat demo's en een EP in 2015 het debuut album 'Cultus Diaboli' uit in eigen beheer (50 cassettes). Het album deed voldoende stof op waaien en het kleine Portugese label Caverna Abismal Records pikte de band op voor het tweede album.
Verwacht van Bloodlust geen hoogstandjes, de band brengt zwarte thrash op een veelal hoog tempo en dit zonder enige competenties. Na het intro opent de band met het titelnummer 'At the Devil's Left Hand'. Een lekkere thrash riff, simpele drums en zwartgallige vocalen van James "Spectre" Campbell aangevuld door de zang van drummer Louis "Disaster" Rando. Bloodlust dendert vrolijk voort met het nummer 'Dead Force', een nummer waarbij de solo partij van gitarist "The General" opvallend is.
Hoe eenvoudig de nummers ook klinken zo vermakelijk zijn deze ook, een solide thrash basis een goede solo gitarist en meer stemmige refreinen weten op één of andere manier te boeien. Origineel is het allemaal niet maar wie geeft er om, de muziek luistert lekker weg en verveeld geen moment. Nummers als 'Black Hymn to Death' of 'Wolves of the Warcursed Earth', waarbij ook drummer Disaster een flinke bijdrage heeft, klinken lekker rauw en thrashy. Bloodlust sluit in stijl af met het nummer 'Shadows of the Black Sun', een snel black thrash nummer met verschillende breaks en tempowisselingen.
Bloodlust's 'At the Devil's Left Hand' is een vermakelijk blackened thrash metal album en is een luistergeurtje waard.
(75/100, Caverna Abismal Records)
Tracklist:
1. Intro 00:49
2. At the Devil's Left Hand 04:02
3. Dead Force 03:47
4. Witchfyre 04:17
5. Death the Conqueror 04:42
6. Freak of the Night 06:07
7. Black Hymn to Death 04:16
8. Wolves of the Warcursed Earth 03:37
9. Shadows of the Black Sun 07:32