The Lurking Fear – Out Of The Voiceless Grave
|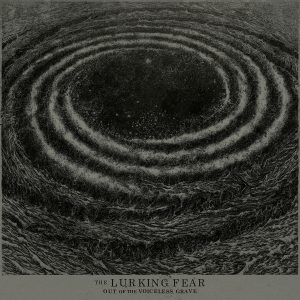 The Lurking Fear is het side project van zanger Tomas Lindberg en drummer Adrian Erlandsson, beide beter bekend van de Zweedse death metal band At The Gates. De line up wordt gecomplementeerd door de gitaristen Jonas Stålhammar (God Macabre / Bombs Of Hades) en Fredrik Wallenberg (Skitsystem), Andreas Axelson (Tormented / Disfear) plukt in dit gezelschap aan de dikke snaren. De bandnaam is gebaseerd op een kort horrorverhaal van de Amerikaanse schrijver H.P. Lovecraft 'The Lurking Fear' en het zal niemand verbazen wanneer de muzikale richting death metal is. De debuut plaat van de heren, 'Out Of The Voiceless Grave', verschijnt op 11 augustus via Century Media Records.
Na het intro spuit The Lurking Fear uit de startblokken met het titelnummer 'Out Of The Voiceless Grave' en lekker snel nummer met een lekker traag middenstuk. De vocalen Tomas Lindberg zijn zoals we dat van hem gewend zijn, lekker smerig. Opvallend is het tempo van de nummers dat opvallend hoog ligt vergeleken met de andere projecten waarin de heren actief zijn. Lekkere agressieve nummers als 'The Infernal Dread', 'Upon Black Winds' en 'Teeth Of The Dark Plains' komen voorbij in een moordend tempo. Af en toe temporiserend maar grotendeels snoeihard en snel.
De debuutplaat, 'Out Of The Voiceless Grave', van The Lurking Fear is een bruut, snel en agressief stukje death metal geworden waar de gemiddelde liefhebber van het genre wel wat mee kan.
The Lurking Fear is live te aanschouwen op 12 augustus te Leeuwarden in de Neushoorn.
The Lurking Fear live:
09.-12.08.2017 Josefov (Czech Republic) – Brutal Assault Open Air
10.-12.08.2017 Schlotheim (Germany) – Party.San Open Air
11.-13.08.2017 Ieper (Belgium) – Ieper Festival
11.-12.08.2017 Leeuwarden (The Netherlands) – Into The Grave Festival / Aftershow @ Neushoorn 16.-19.08.2017 Dinkelsbühl (Germany) – Summer Breeze Open Air
18.-19.08.2017 Essen (Germany) – Turock Open Air
(83/100, Century Media Records)
Tracklist:
01. Out Of The Voiceless Grave (01:05)
02. Vortex Spawn (02:49)
03. The Starving Gods Of Old (03:38)
04. The Infernal Dread (03:31)
05. With Death Engraved In Their Bones (03:34)
06. Upon Black Winds (03:25)
07. Teeth Of The Dark Plains (03:08)
08. The Cold Jaws Of Death (04:27)
09. Tongued With Foul Flames (02:38)
10. Winged Death (04:40)
11. Tentacles Of Blackened Horror (04:20)
12. Beneath Menacing Sands (4:59)