Nieuw garagerock festival met o.a. The Nomads, The Darts en Miners of Muzo
|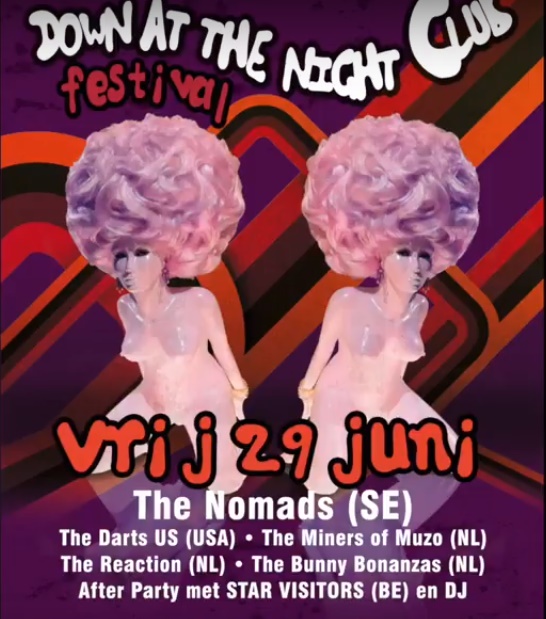 Down at The Nightclub records is een kersvers platenlabel uit Nederland dat het komende jaar echt heel veel bijzonders uit gaat brengen. In 2017 heeft dit label de verzamelaar Down At The Nightclub Vol I uitgebracht. Een heerlijke garagerock verzamelaar vol talent van eigen bodem. Op 29 juni komt Vol. 2 uit. Dit keer heeft het label over de grenzen heen gekeken.
Zo prijken op deze compilatie o.a. The Minnesota Voodoo Men (Jap), Beatrevolver (Du), The Darts (USA), The Nomads (SWE), Fifty Foot Combo (BE), Thee Generators feit. Jack White (UK) en natuurlijk weer The Miners Of Muzo. Om deze release te vieren, wordt er vrijdag 29 juni in de Helling in Utrecht een Down At The Nightclub party gehouden met een aantal van de bands die op dit album staan. En dat zijn zeker niet de minsten. Met deze line up behoort deze avond meteen al tot de top van de garage festivals in Nederland.
Hoofdact zijn de Zweedse oer-garagepunkers van The Nomads). Opgericht in 1981 en beïnvloed door The Stooges en MC5 vormden The Nomads op hun beurt weer de inspiratie voor bands als The Hellacopters en The Hives. The Darts is een gloednieuwe Amerikaanse all-grrrrl garage-psych-rock supergroep gevormd door ex leden van The Love Me Nots, Dollyrots and Brainspoon. Let ook op de gemene orgelpartijen van de leadzangeres! De Tilburgse garagerockband Miners of Muzo was in de eighties en nineties beroemd van Brabant tot SXSW in Texas. Met hun nieuwe album Really… Is That A Fact? zijn ze weer helemaal terug! Uit Eindhoven komt The Reaction, vijf psychedelische Nederbeatrockers. Q65 meets The Pretty Things meets de zanger van The Hives! De Arnhemse zesmansformatie The Bunny Bonanzas tenslotte maakt de line-up van Garage De Helling compleet met hun niet-bestaande soundtracks voor obscure 50's-sci-fi-, 60's-horror- en 70's-softpornofilms!
Na afloop van het Down at the Nightclub Festival is er een afterparty waar Star Visitors zullen spelen. De Belgische band zal verschillende psychedelische, science fiction-garage nummers met een rauw randje spelen.