I Against I – Small Waves
|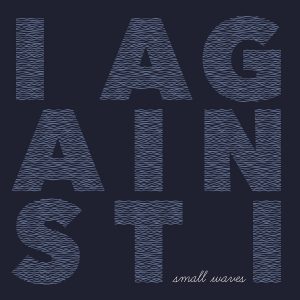 Via het recordlabel White Russian Records brachten onze eigen Nederlandse Punklegendes I Against I op 5 oktober hun nieuwste album 'Small Waves' uit. De Dordrechts band was de allereerste Europese band ooit die een deal wisten te bemachtigen bij het wereldberoemde Punklabel Epitaph Records. In 2008 nam de band een lange pauze, om vervolgens in 2017 via hun huidige label weer te gaan werken aan een nieuw album. Maar is het ook een geslaagde comeback?
De band opent met een lekker vrolijke gitaarintro op 'Hey', gevolgd door de lekkere meezing vocals van zanger en gitarist Ronald van Maren.
Daarna gaat de band lekker vrolijk met 'All I Could Remember' en 'Never Been So Sure'. Beide tracks klinken als lekker vrolijke Punk met duidelijk een lichte Poppy sound, zoals The Offspring klonken op hun album 'Americana'. Vooral 'Never Been So Sure' is een prima track voor radio airplay.
Op de tracks 'Only Everything', en 'Walk Away', neigt de gitaarsound iets teveel van hetzelfde te klinken. 'Keep Running' is eigenlijk de (enigste) track(s) die meer een poprock sound heeft en dat vormt een prima afwisseling met de rest. 'Rock Bottom Dream Life' en 'At The End of The Tunnel' zijn een lekkere, typisch snel gespeelde Punksong waarmee de band live genoeg mensen een moshpit in zou kunnen krijgen. De afsluiter 'Small Waves' heeft qua sound veel weg van een band als Blink 182. Een rustige afsluiter van het verder redelijk geslaagde album.
Conclusie: De plaat duurt dikkemik slechts 22 minuten, maar daar krijgt de luisteraar wel een vrolijke tijd voor terug. De band maakt nog altijd vrolijke Punk met een poppy inslag die je lekker mee kunt zingen. Hier en daar neigt de band in de sound iets teveel van hetzelfde te klinken, maar de uitstekende productie vangt dit op. Een redelijk geslaagde comeback. (70/100) (White Russian Records)
TRACKLIST SMALL WAVES:
1. Hey
2. All I Could Remember
3. Never Been So Sure
4. Only Everything
5. Keep Running
6. Walk Away
7. Rock Bottom Dream Life
8. Love You When I'm Gone
9. At The End of The Tunnel
10. Small Waves
LINE UP I AGAINST I:
Ronald van Maren: vocals, guitar
Bob Hoorweg: vocals, bass guitar
Jasper Blazer: drums