Grim Tim – Why Do It At All
|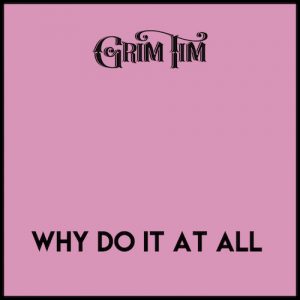 Ruim een jaar geleden werd de crowdfunding actie van Grim Tim succesvol afgesloten zodat de band haar debuutalbum kon gaan opnemen. Voor de opnames zocht Grim Tim de hulp van een van de beste producers van Nederland: Martijn Groeneveld (o.a. John Coffey, Blaudzun).
Grim Tim is zanger-gitarist David Henry, drummer Dustin Boerrigter en bassist Stijn Hazewinkel. Tot dusver was Grim Tim vooral geliefd om haar energieke en intense liveshows. Met 'Why Do It At All' kun je Grim Tim nu ook in de auto of in je huiskamer beluisteren. Om met de deur in huis te vallen: "Beluister die plaat, het is zeker de moeite waard".
Opener 'The State I'm In' heeft wat tijd nodig om zich in je hoofd te nestelen, maar wanneer dat na een aantal keer luisteren gebeurt bijt ie zich ook echt vast. '203' Is een voorbeeld van de energieke, puntige liedjes waar Grim Tim een patent op lijkt te hebben. Grim Tim is op haar best als de liedjes doordrenkt worden met een forse dosis funk, zoals in het broeierige 'You Thought This Was Real' en een van de prijsnummers 'Down And Out Roundabout' waarin een spacy gitaarriff en de vocalen schitteren over een onweerstaanbare groove. 'My Dear Mary Ann' is al een van de hoogtepunten van de live-shows van Grim Tim. De band is er prima in geslaagd om de opwinding en energie van de optredens op plaat vast te leggen. Afsluiter 'The Morning' is misschien een beetje een vreemde bijt op het album. Met gedragen dramatische zang balanceert op het randje van kitsch. Maar mede door een vuige gitaarsolo valt 'The Morning' nooit over de rand. Sterker nog, het groeit uit tot een van de hoogtepunten van het album.
Al met al levert Grim Tim met 'Why Do It At All' een collective sterke liedjes af, de tegelijkertijd rauw, energiek en catchy zijn. 'Why Do It At All' is verrassend volwassen voor een debuutalbum. Grim Tim is een band om in de gaten te blijven houden. (8/10)
Playlist
1. The State I'm In
2. 203
3. You Thought This Was Real
4. Over Soon
5. Where It Belongs
6. Why Do It At All
7. Down-and-Out Roundabout
8. My Dear Mary Ann
9. Lonely But I've Got This
10. The Morning