Black Therapy – Echoes of Dying Memories
|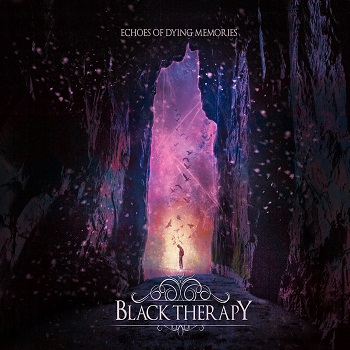 Met 'Echoes of Dying Memories' brengt de Italiaanse Melodic Death Metal band Black Therapy hun derde album uit via Black Lion Records. De band bestaat exact tien jaar en kent inmiddels een actieve live reputatie. Samen met producer Stefano Morabito (Fleshgod Apocalypse, Eyeconoclast) Nam de band 'Echoes of Dying Memories' op. Het album kent een guestapperance van Wintersun gitarist Asim Searah op de track 'Scars', en op 'Ruins' is een guestappereance te vinden van Adimiron vocalist Sami El Kadi.
Begint opener 'Phoenix Rising' nog lekker stevig met redelijk wat Progressive invloeden in het gitaarspel. Op de daaropvolgende tracks 'Ideal', titeltrack 'Echoes of Dying Memories', 'Dreaming', en 'Burning Abyss' brengt de band een interessante en aantrekkelijke mix, van Metal, Death Metal, en Progressive. En zelfs hier en daar wat Doom invloeden zijn er te bespeuren, zoals bijvoorbeeld op de titeltrack, welke begint met een lange, melancholische gitaarintro.
Ook de tracks 'Scars' en 'Ruins' met de guestappereances klinken prima. Alhoewel qua gitaarspel 'Scars' weinig verschilt met de rest van het album qua sound. Mooie afsluiter is 'Ruins' met de additional vocals als guestappereance vormen een mooie aanvulling op deze track.
Met dit album heeft Black Therapy duidelijk zorg en aandacht besteed aan de kwaliteit van het spelen en de productie. 'Echoes of Dying Memories' is een prima album voor de liefhebbers van Opeth, Fleshgod Apocalypse, en Soilwork.
(93/100) (Black Lion Records)
Tracklist: Echoes of Dying Memories
Phoenix Rising
Ideal
Echoes of Dying Memories
Dreaming
Rejecting Me
The Winter of Your Suffering
Burning Abyss
Scars
Ruins
Line Up: Black Therapy
Lorenzo Carlini – Bass
Giuseppe Di Giorgio – Vocals
Luca Marini – Drums
Andrea Mataloni – Guitars
Davide Celletti – Guitars