Jim Peterik & World Stage – Tigress Women Who Rock The World
|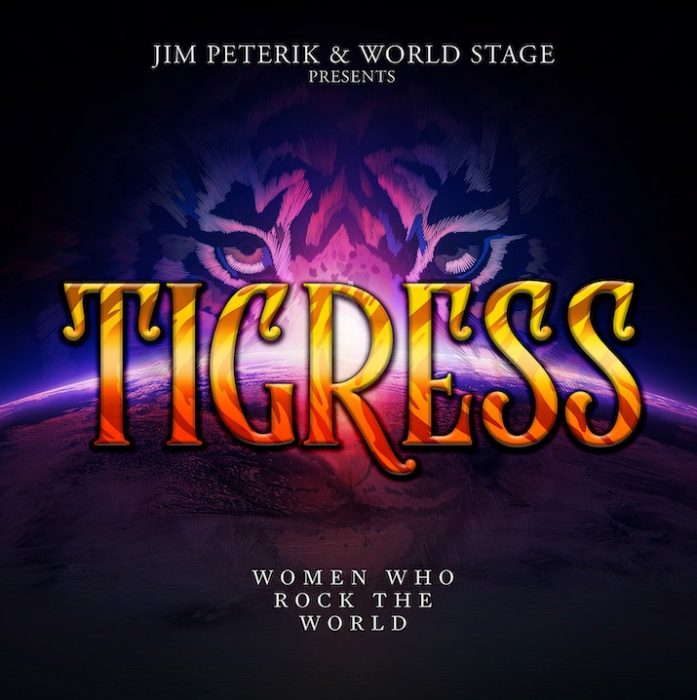 Jim Peterik kennen we natuurlijk allemaal van Survivor en Pride Of Lions, 2 topbands in het Melodieuze Rockgenre. Deze levende AOR-legende is niet alleen verantwoordelijk voor de wereldhit 'Eye Of The Tiger' maar heeft nog veel meer wereldnummers geschreven voor Survivor en Pride Of Lions. Ook andere artiesten hebben gebruik gemaakt van zijn composities zoals Cheap Trick, 38-Special en Sammy Hagar om er maar eens een paar te noemen.
Jim Peterik gebruikt World Stage eigenlijk om musici die hij talentvol en/of graag samen mee wil spelen te promoten. Niet alleen via deze albums maar ook door zijn eigen platenlabel 'World Stage International'. Op dit vierde album van Jim Peterik en World Stage ligt de nadruk op de zangeressen. Weinig gevestigde namen maar voornamelijk talentvolle aanstormende talenten. Veel woorden hoef ik er verder niet over vuil te maken.
De kwaliteit en de uitvoering van de nummers is smetteloos en helaas ook wel heel erg binnen de geijkte paden van het genre. Komt nog eens bij dat de nummers en de zangeressen qua stijl en stem ook nogal op elkaar lijken. Dit maakt 'Tigress' toch wel tot een erg lange rit op den duur. Beste nummer van het album is het door de uit Wales afkomstige zangeres Chez Kane gezongen 'A Cappella' wat overigens niet A Cappella wordt gezongen. Deze talentvolle zangeres heeft eerder dit jaar haar gelijknamige debuut uitgebracht en is zeker de moeite waard om eens te beluisteren.
Ondanks het bataljon aan topmuzikanten en zangeressen die op 'Tigress' acte de présence geven is het geen onmisbaar album in je Melodieuze Rock-collectie. Al met al een aardig album om de koude winterdagen mee door te komen maar geen hoogtepunt in het oeuvre van deze grootheid. (72/100) (Frontiers Music)
Playlist
Tigress – Kate French – Jennifer Batten – Abigail Stahlschmidt (violin) (4:25).
Prom Night In Pontiac – Chloe Lowery – Anika Nilles (drums) – Ashley Reeve (bass) (3:30).
A Cappella – Chez Kane (4:52).
Living For The Moment – Cathy Richardson – Jennifer Batten – Linda Mcdonald (drums) (4:14).
Against The Grain – Rosa Laricchiuta (4:45).
Strong Against The Wind – Kate French (5:37).
Full Moon Crazy – Cathy Richardson – Jennifer Batten (3:18).
Lazarus Heart – Janet Gardner (4:09).
Taller- Leslie Hunt (4:48).
The Best In Us – Cathy Richardson – Kimi Hayes (4:38).
Dear Life – Lindsay Kent – Sina (Drums) (4:50).
Walk Like Royalty – Kimi Hayes – Nile Brosh (guitar) (4:40).
Music In The Aire – Chloe Lowery (4:21).
Sin To Believe A Lie – Cathy Richardson – Madden Klas (drums) (5:48).
Stronger At The Broken Places – Marine Lacoste – Jennifer Batten – Linda Mcdonald (drums) (3:24).
Brave Is Beautiful – Leslie Hunt – Mindi Abair (sax and harmony vocal) (4:50).
Additional Performers
Ed Breckenfeld – drums: Tigress, Music In The Aire, Brave Is Beautiful, Against The Grain, Full Moon Crazy, Taller, Lazarus Heart, A Cappella
Mike Aquino – additional guitar: Prom Night In Pontiac, Dear Life, Taller, Lazarus Heart, A Cappella, Against The Grain
Joel Hoekstra – additional guitar: Strong Against The Wind, Music In The Aire, Sin To Believe A Lie
Colin Peterik – drums: The Best In Us
Scott May – B3: Stronger At The Broken Places
Tom Yankton – additional guitar: Full Moon Crazy
Christian Cullen – orchestration and sound design: Tigress
Jim Peterik – guitars, backing vocals, additional instruments: Against The Grain (bass), Full Moon Crazy (additional guitar), Dear Life (bass synth and bass guitar), The Best In Us (bass), Lazarus Heart (mellotron)