P.O.D. gaat akoestisch op nieuwe album 'SoCal Sessions'
|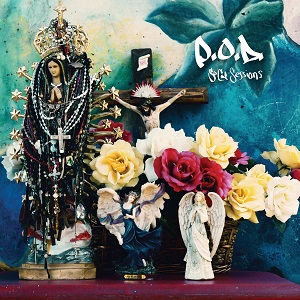 Twee jaar na hun laatste studiowerk 'Murdered Love' brengt de Californische alternatieve metalband P.O.D. het album 'SoCal Sessions' uit. De groep uit San Diego heeft twaalf unplugged versies van hun grootste hits opgenomen, waaronder 'Youth Of The Nation' en 'Alive'. 'SoCal Sessions' verschijnt op vrijdag 21 november.
De bandleden Sonny Sandoval (vocalen), Marcos Curiel (gitaar), Traa Daniels (bas) en Wuv Bernardo (drums) zijn ook bezig nieuw materiaal te schrijven voor hun negende studioalbum. Deze zal in 2015 uitkomen. Het is de opvolger van 'Murdered Love' dat in 2012 verscheen en de band in Amerika hits opleverde met 'Beautiful' en 'Lost In Forever'.
P.O.D. zijn al sinds 1992 bij elkaar. In die periode hebben ze twaalf miljoen albums verkocht, onder andere van 'The Fundamental Elements Of Southtown' uit 1999 en 'Satellite' uit 2001. Dankzij hun unieke mengelmoes van zware gitaarriffs met rap, reggae, latin en jazz is P.O.D. altijd een vaste waarde gebleven in de immer aan trends onderhevige wereld van metalmuziek.