Tremonti komt met tweede solo album
|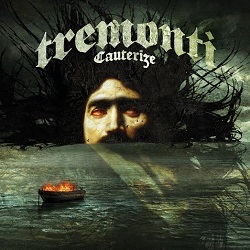 Tremonti brengt zijn tweede solo album 'Cauterize' uit op 5 Juni via Fret 12 Records / Bertus. Het nieuwe album laat horen dat Tremonti de draad weer oppakt na het vorige, zeer succesvolle debuut album 'All I Was'. Vanaf de eerste riffs van opening song 'Radical Change' tot de laatste noten van het epische 'Providence', is het duidelijk dat Mark Tremonti enorm gegroeid is als songwriter. Zijn hardrock en heavy metal invloeden zijn duidelijk te horen in nummers zoals 'Flying Monkeys', 'Arm Yourself' en 'Sympathy'. De debuut single van Cauterize is de uptempo track 'Another Heart'.
Op het album spelen Mark Tremonti (zang/gitaar), Eric Friedman (gitaar), Wolfgang Van Halen (bas) en Garrett Whitlock (drums). Ter ondersteuning van de nieuwe plaat gaat Tremonti ook op wereldtournee, helaas zonder bassist Wolfgang Van Halen vanwege de zojuist aangekondigde Van Halen tour. "I am still part of Tremonti and very excited for the release of Cauterize, but unfortunately I am unable to participate in the upcoming tour dates, both in the States and overseas due to my prior commitment with Van Halen for the upcoming summer tour in support of the Tokyo Dome Live In Concert album," aldus bassist Wolfgang Van Halen. "Look forward to seeing all of the Tremonti fans on the road as soon as my schedule permits!" In Juni komt Tremonti naar Europa, waarbij ze de clubs aandoen maar ook festivals zoals Download en Graspop.
Mark Tremonti is het bekend geworden als song schrijver en gitarist van publiek lieveling Alter Bridge en mega act Creed. Hij verkocht meer dan 40 miljoen albums en won een Grammy Award. Hij is de man achter de enorme hits 'My Own Prison', 'Higher', 'Isolation' en 'Addicted To Pain'. Hij heeft over de hele wereld een enorme fan base opgebouwd en zijn sound is zeer herkenbaar.
De track list voor Cauterize is:
Radical Change
Flying Monkeys
Cauterize
Arm Yourself
Dark Trip
Another Heart
Fall Again
Tie The Noose
Sympathy
Providence