Ozzy Osbourne vormt nieuwe supergroep
|

Ozzy Osbourne heeft een nieuwe supergroep gevormd waarmee hij in oktober zal optreden op het New Orleans' Voodoo Music Experience festival. De band zal verder bestaan uit gitaristen Slash en Tom Morello en Black Sabbath-bassist Geezer Butler.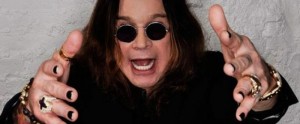 Eigenlijk stond er een optreden met Black Sabbath op de planning op het Ozzfest. En waren ze van plan om een laatste album en een afscheidstournee te doen. Maar daarvan is tot nu toe weinig terecht gekomen, en het optreden op Ozzfest was geannuleerd.
Deze nieuwe supergroep zal in ieder geval op 31 oktober optreden tijdens het festival in New Orleans. Tijdens de New Orleans' Voodoo Music Experience 2015 spelen verder onder anderen Florence and the Machine, Deadmau5, Modest Mouse, Chance the Rapper, Giorgio Moroder, Santigold, Jane's Addiction en Frank Turner.