Line-up voor Speedfest #10 compleet met laatste zes namen
|

Met de toevoeging van Black Tusk (US), Giuda (IT), The Hip Priests (UK), Honeymoon Disease (SWE), The Legendary Shack Shakers (US) en WhiskeyDick (US) is Speedfest #10 op zaterdag 21 november in het Klokgebouw in Eindhoven nu volledig. Speciaal voor deze jubileumeditie pakt de organisatie dit jaar uit met het extra lange nachtprogramma The Aftercrusher.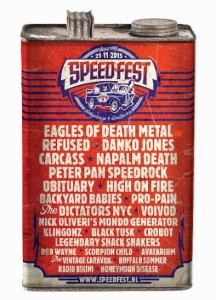 Peter Pan Speedrock-frontman Peter van Elderen licht toe: "Tijdens eerdere edities hielden we na Speedfest altijd een afterparty als bedankje voor de crew, vrijwilligers, DJ's en bands. Maar die afterparty's kregen een legendarische status waar iedereen graag bij wilde zijn. Daarom hebben we speciaal voor deze tiende editie juist géén afterparty, maar wél een extra lang programma dat tot vier uur 's nachts doorgaat met drie bands op twee van de drie podia, te weten de Demolition- en Thrashers stage. Het is een extra lang nachtprogramma waar ditmaal dus ook de Speedfestbezoekers van harte welkom zijn."
Volledige line-up Speedfest #10:
De volledige line-up van Speedfest #10 is nu als volgt: Eagles Of Death Metal, Refused, Danko Jones, Carcass, Napalm Death, Peter Pan Speedrock, Obituary, High On Fire, Pro-Pain, Bob Wayne, Backyard Babies, Voivod, The Dictators NYC, Klingonz, Black Tusk, Nick Oliveri's Mondo Generator, Crobot, The Legendary Shack Shakers, Scorpion Child, The Vintage Caravan, Buffalo Summer, Avatarium, The Hip Priests, Giuda, Radio Bikini, Honeymoon Disease en WhiskeyDick.