Zweeds Eyes Wide Open brengt nieuwe singel 'Blindead
|

Het Zweedse Eyes Wide Open brengt op 30 september a.s. hun nieuwe singel "Blindead" uit via hun Nederlandse label Into The LimeLight Records dat ook hun nieuwe album in 2016 zal uitbrengen. Na hun album "Aftermath" is de band druk geweest met touren en werken aan materiaal voor hun nieuwe album. Om de fans alvast een voorproefje te geven van het nieuwe materiaal heeft de band besloten een nieuwe single uit the brengen.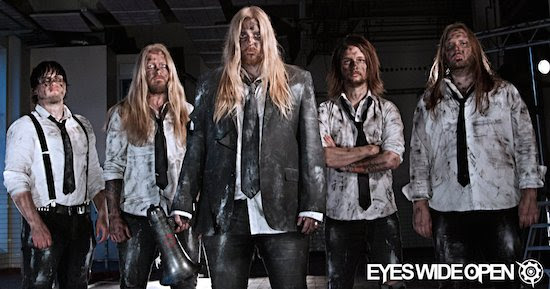 Het nummer gaat in op het fenomeen groep psychose. Hoe iemand of iets een groep mensen, een stad, een land of zelfs de wereld kan manipuleren. Het volledig in zijn greep krijgen van een groep door een verzonnen "waarheid" en mensen verblinden voor de echte waarheid. Een persoon die leeft in een verzonnen realiteit kan net zo goed dood zijn. Vandaar de titel "Blindead". Het nummer zal beschikbaar zijn op alle streaming en download sites.
Eyes Wide Open zal weer veel gaan touren, in 2016 een nieuw album uitbrengen en ook het contract met de World Wide Wrestling Entertainment groep in de VS tekenen en een nieuw nummer opnemen voor een van de wrestling sterren.