Tax the Heat – Fed to the Lions
|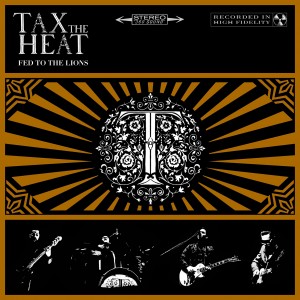 Tax the Heat werd in 2012 in Bristol Engeland opgericht door oude schoolvrienden Alex Veale en Jack Taylor. Nadat bassist Antonio Angotti en gitarist JP Jacyshyn tot de band toetraden was de line-up compleet. Tax the Heat haalt zijn inspiratie uit de klassieke blues rockbands uit de jaren 60 waaronder the Kinks, the Beatles, the Stones, the Yardbirds en the Who. Maar in de muziek van Tax the Heat hoor je ook invloeden van the Black Keys, Queens of the Stone Age en the Arctic Monkeys terug. Kortom: Klassieke blues rock met de rauwheid en het directe van stoner en grunge.
Tax the Heat's eerste ep in 2013 werd geproduceerd door stoner legende Chris Goss (Masters of Reality, Kyuss, Queens of the Stone Age, the Cult). In 2016 vindt Tax the Heat het tijd voor haar debuutalbum. 'Fed to the Lions' is geproduceerd door Evansson die eerder met Robert Plant, Siouxsie Sioux and Goldfrapp werkte.
'Fed to the Lions' is een klassiek bluesrock album geworden met 12 recht voor z'n raap rock 'n roll liedjes. De band laat met dit album zien dat ze begenadigd songschrijvers zijn, de liedjes vertellen stuk voor stuk een verhaal, zijn catchy en zelden langer dan 3 minuten. Alex zijn stem en de gitaren van Alex en JP voeren de boventoon, maar de ritmesectie zorgt voor de catchy grooves die de liedjes zo onweerstaanbaar maken.
Opener van het album 'Highway Home' is een voorbeeld van zo'n "catchy" hardrock nummer waarbij je je in een duistere, zwetende rockclub waant. 'Under Watchful Eyes' is een volgend hoogtepunt waarin classic blues rock in een soulvol jasje wordt gestoken. 'Some Sympathy' is misschien wel het hoogtepunt van het album. In 'Some Sympathy' wordt de klassieke hardrock van AC/DC gekoppeld wordt aan de blues en soul van de Yardbirds en de urgentie en directheid van the Arctic Monkeys.
Tax the Heat levert met 'Fed to the Lions' een overtuigend debuutalbum af. Rock 'n roll zonder kapsones, verpakt in echte liedjes waarin de band een verhaal vertelt en die onweerstaanbaar in je kop blijven hangen. 'Fed to the Lions' weet de directheid en de kracht van een liveband op plaat te vangen. Ik ben heel benieuwd naar een show van Tax the Heat.
'Fed to the Lions' wordt op 8 april uitgebracht bij Nuclear Blast (8/10)