Maleficence – Realms of Mortification
|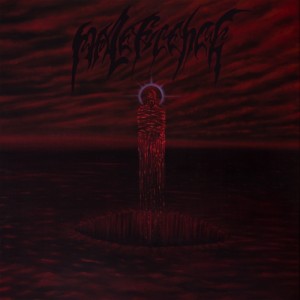 Maleficence is een jonge Belgische death metal band opgericht in 2011 in Brussel. Twee demo's heeft het gezelschap tot dusver uitgebracht, 'First Spit' in 2012 en 'Journey to the Depths'. Wie er in de band spelen blijft een vraagteken want met namen als "I. Witchfucker" (bass), Alkhöloïkh (drums), Disgusting Semen (lead gitaar), Destroyer G. (gitaar) en een zanger luisterend naar de naam "Nekrozotar". Dat de mannen eerder met elkaar gespeeld hebben blijkt uit het feit dat er gemeenschappelijke bandnamen opduiken: Saqra's Cult, Gens Perversa e.a.
De release die we hier bespreken is de 7" EP, genaamd 'Realms of Mortification', welke binnenkort verschijnt. De hoes is vaag en onduidelijk laten we hopen dat de muziek meer tot de verbeelding spreekt. De twee nummers, 'Pyre of Penitence' en 'Of Mortification and Beyond', komen niet voor op de demo's en dit is dus recent materiaal. 'Pyre of Penitence' is een aardig nummer met snelle gitaren, fijne drums en zit muzikaal goed in elkaar. De zang is zoals je dat mag verwachten van een band in dit genre. 'Of Mortification and Beyond' klinkt een stuk interessanter, goed opgebouwd met een duidelijke gitaarlijn en de lead gitarist Disgusting Semen geeft hier duidelijk zijn visite kaartje af.
Maleficence heeft een leuke 7" uitgebracht en heeft duidelijk potentie, wat mij betreft mag de full-length in een rap tempo volgen.
(7/10, Blood Harvest)