Blood Red Throne – Union Of Flesh And Machine
|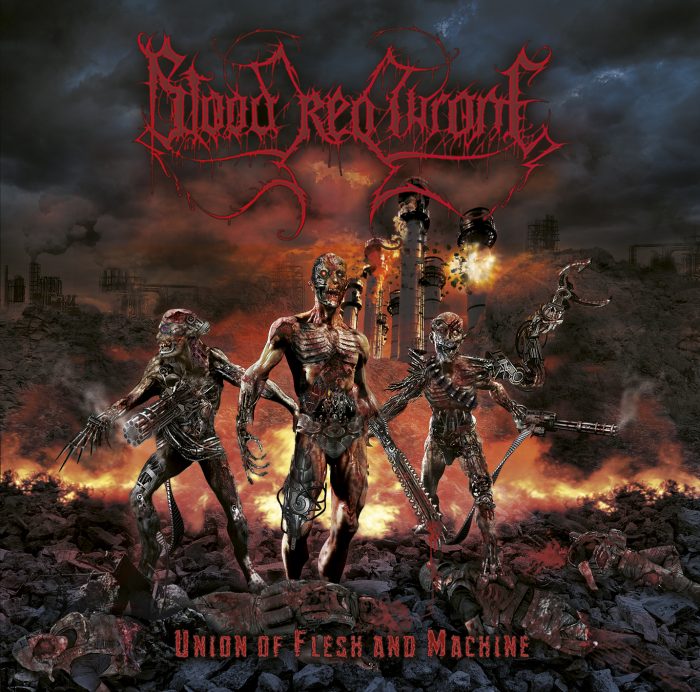 Blood Red Throne is een Noorse death metal band, opgericht in 1998 door Dod en Tchort in de tijd dat ze nog in Satyricon speelden. De band is ontstaan uit hun voorliefde voor death metal, en in 2001 verscheen hun debut album 'Monument of Death'. Inmiddels heeft Tchort de band in 2010 verlaten, en levert Blood Red Throne met 'Union of Flesh and Machine' hun achtste album af, waarop ook drummer van het eerste uur Freddy Bolso is teruggekeerd op de drumkruk.
De muziek van Blood Red Throne is zowel technisch als melodieus en bruut! Het best te vergelijken met bands als Cannibal Corpse en Kataklysm, waarbij vooral de zanger brult en gorgelt als een kruising tussen George Fisher en John Tardy. 'Revocation of Humankind' opent het album met een lekkere rif en meteen valt de vette produktie op van het album dat recht doet aan het genre. Het gas blijft gedurende het album aardig ingetrapt, zo ook met 'Proselyte Virus' en zeker ook 'Patriotic Hatred', een top prestatie van de drummer op Olympisch niveau! Al met al klinkt het album toch ook afwisselend en melodieus zonder aan bruutheid te verliezen en is het zeker geen eenheidsworst waarbij alle nummers hetzelfde klinken. Vette riffs, brute gorgels en screams en knallend drumwerk domineren deze schijf. Met recht een top death metal plaat. Aangezien ik alleen bekend was met hun debuut lp kan ik zeggen dat de band wel heel wat progressie heeft gemaakt en ik nu toch ook wel benieuwd ben naar hun andere werk, ik vrees dat ik toch wat gemist heb.
Blood Red Throne heeft ook een leuke cover opgenomen op dit album met 'Leather Rebel' van Judas Priest, in een supervette Blood Red Throne versie. Met 'Legacy of Greed' en 'Exposed Mutation' is het ook weer puur genieten op snelheid! 'Primal Recoil' en 'Mary Whispers of Death' sluiten het album af in waardige death metal stijl.
Blood Red Throne bewijst met dit album tot de top van de death metal scene te behoren. Old school death metal met een moderne en vette sound! Topprestatie wat mij betreft!
(8,5/10, Spinefarm Records)
Tracklist:
1. Revocation of Humankind 04:23
2. Proselyte Virus 05:09
3. Patriotic Hatred 04:15
4. Homicidal Ecstacy 04:42
5. Martyrized 03:44
6. Union of Flesh and Machine 04:55
7. Legacy of Greed 03:12
8. Exposed Mutation 03:10
9. Primal Recoil 04:15
10. Leather Rebel (Judas Priest cover) 03:21
11. Mary Whispers of Death 04:52