Beastcraft – The Infernal Gospels of Primitive Devil Worship
|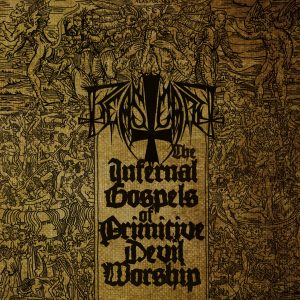 Beastcraft is een Noorse black metal band geformeerd in 2003 door Trondr Nefas en Sorath Northgrove. Trondr Nefas overleed in 2012 en de band werd opgeheven. De demo's voor 'The Infernal Gospels of Primitive Devil Worship' zijn na het overlijden van Trondr gevonden en worden uitgebracht als allerlaatste album van de band.
Na het intro schieten we uit de startblokken met het lekkere, snelle en korte 'Demonic Perversion'. 'Deathcraft And Necromancy' is van geheel andere orde. Het nummer is tergend traag en klinkt geweldig met melodramatische doom invloeden en heerlijk rauwe vocalen.
Op dit album staan een paar sterke composities met lekkere repeterende riffs en heerlijke tempowisselingen. Nummers als 'The Fall Of The Impotent God', het up-tempo nummer 'Her Highness Of Hell' en het brute 'The Devil's Triumph' zijn stuk voor stuk nummers die iets extra's brengen. Meets complete nummer en een persoonlijke favoriet is 'Reborn Beyond The Grave'.
'The Infernal Gospels of Primitive Devil Worship' is een heerlijk black metal album en verdient een plek in iedere liefhebbers platenkast.
(85/100, Pulverised Records)
Tracklist:
1. Aapenbaring (1:06)
2. Demonic Perversion (2:35)
3. Deathcraft And Necromancy (6:32)
4. The Fall Of The Impotent God (5:20)
5. Her Highness Of Hell (3:23)
6. Reborn Beyond The Grave (6:30)
7. Waging War On The Heavens (5:18)
8. The Devil's Triumph (5:28)
9. The Beast Descends (3:06)