Nile – Vile Nilotic Rites
|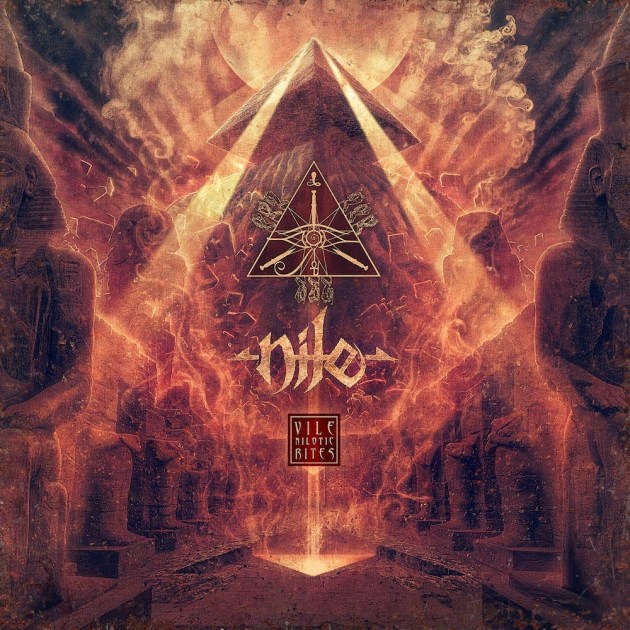 Wanneer Nile een album uitbrengt zijn de verwachtingen altijd hooggespannen. Niet voor niets is deze band één van de grootsten in het Death Metal genre. Opgericht in 1993 door Karl Sanders speelt Nile een unieke combinatie van traditionele en technische Death Metal. Wat Nile onderscheid van andere bands zijn de Oosterse invloeden en de sterk op H.P. Lovecraft geïnspireerde songteksten. Dit resulteert in zeer complexe technische Death Metal gespeeld op onmenselijke snelheid. Ook het heavy riffwerk van gitaar en bas is iets waar Nile trendsetter in was en is.
Vile Nilotic Rites is alweer hun negende studioalbum en is zeker één van hun sterkste sinds lange tijd. Dit komt mede doordat bandleider Karl Sanders wat dingen uit handen heeft gegeven. De andere bandleden hebben op dit album ook bijgedragen aan de composities en ook de vocalen worden op Vile Nilotic Rites niet alleen verzorgd door Karl Sanders. Waar ik het idee had dat op de (overigens zeker niet slechte) laatste paar albums het heilige vuur een beetje ontbrak het met Vile Nilotic Rites weer is teruggevonden. Nile heeft in tijden niet meer zo energiek en fris geklonken. Het spelplezier is duidelijk terug en dat is te horen op dit uitstekend geproduceerde album. Nog steeds grossiert Karl Sanders in het maken van complexe nummers met ellenlange songtitels maar dit album is duidelijk een bandalbum in plaats van een Karl Sanders album en dat is zeker een pluspunt. Met Vile Nilotic Rites conformeert Nile haar status als meesters van de technische Death Metal.
(90/100) (Nuclear Blast).
Track List 
1 Long Shadows Of Dread (4:08) 
2 The Oxford Handbook Of Savage Genocidal Warfare (3:09)
3 Vile Nilotic Rites (3:28) 
4 Seven Horns Of War (8:49) 
5 That Which Is Forbidden (5:36) 
6 Snake Pit Mating Frenzy (2:49) 
7 Revel In Their Suffering (5:44) 
8 Thus Sayeth The Parasites Of The Mind (1:42) 
9 Where Is The Wrathful Sky (4:40) 
10 The Imperishable Stars Are Sickened (8:00) 
11 We Are Cursed (6:54).     
Line Up
Karl Sanders – Guitars/Vocals
George Kollias – Drums
Brad Parris- Bass/Vocals
Brian Kingsland – Guitars/Vocals