Judas Priest-fans opgelet! Op 17 november aanstaande keert de Britse heavy metalgrootheid Judas Priest terug naar 013 Tilburg voor een exclusieve Nederlandse show, voorlopig de laatste in ons land. Wie de in prima conditie verkerende frontman Rob Halford onlangs aan het werk zag, weet wat te verwachten: een twee uur durende show met vooral veel greatest hits.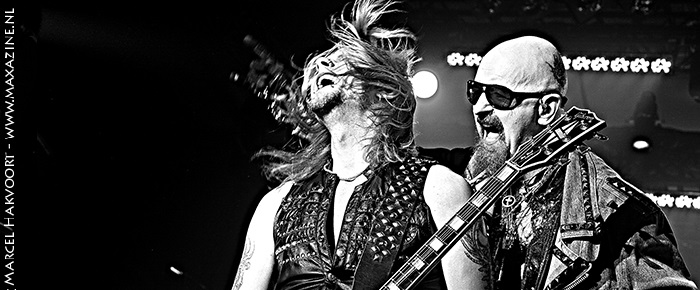 En hits zijn er nogal wat, aangezien de band sinds zijn oprichting meer dan 45 jaar geleden 28 albums, 33 singles en 17 videoclips uitbracht waarvan er wereldwijd in totaal ruim 45 miljoen werden verkocht. Inmiddels groeiden drie generaties rock- en metalfans op met Priest-anthems als 'Breaking The Law', 'Living After Midnight', 'Painkiller', 'You've Got Another Thing Coming' en de klassieke ballads 'Victim Of Changes' en 'Beyond The Realms Of Death'.
Judas Priest als voorbeeldfunctie
Ook talloze heavy bands groeiden sinds de jaren zeventig op naar voorbeeld van deze iconische Engelse helden. Maar Judas Priest is niet alleen muzikaal van essentieel belang geweest voor de evolutie en profilering van het heavy genre. Ook qua visuals en imago (zwart leer, studs, spikes, kettingen en een ronkende motor op het podium) ontwierp Judas Priest de blauwdruk voor generaties bands ná hen. Grondleggers; veteranen; pioniers of Metal Gods – mis ze hoe dan ook niet! Het laatste woord is aan The Priest zelf: "Cause what's the point in living, unless you're living wild?" Zo is het maar net.