Iggy Pop en Josh Homme naar de Heineken Music Hall
|

Op 10 mei a.s. komen Iggy Pop en Josh Homme met de Post Pop Depression Tour naar Amsterdam. De tour staat in het teken van het gelijknamige nieuwe album van Iggy Pop. Het album is een samenwerking tussen Iggy Pop en Queens Of The Stone Age frontman Josh Homme. Ook Arctic Monkeys drummer Matt Helders en Queens Of The Stone Age bandlid Dean Fertita zijn onderdeel van dit bijzonere en eenmalige project.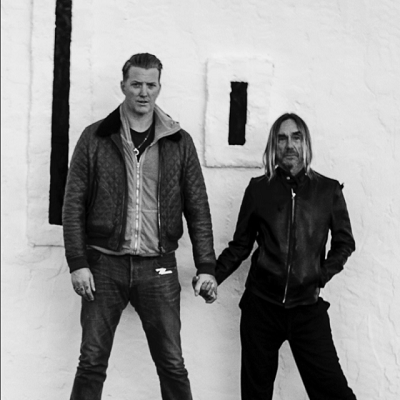 Vorige week was daar opeens de aankondiging van Post Pop Depression in The Late Show met Stephen Colbert. In het diepste geheim hebben Iggy Pop en Josh Homme samen een uniek project neergezet. Wat begon als een sms bericht van Iggy Pop naar Josh Homme is uitgegroeid tot een bijzondere samenwerking en het 17e studioalbum van punklegende Iggy Pop. Vandaag is bekend gemaakt dat ze met het album op tournee gaan. Het is een zeer exclusieve tour met slechts een aantal one-time-only optredens in speciaal gekozen zalen. Het belooft een onvergetelijke avond te worden met zowel nummers van het nieuwe album als de vele parels en klassieker uit Iggy's solocarrière. Voor de tournee sluiten ook Queens Of The Stone Age multi-instrumentalist Troy Van Leeuwen en gitarist/bassist Matt Sweeney zich aan bij het gezelschap.
Josh Homme zegt over het project: "This was to go where neither of us had gone before that was the agreement. And to go all the way."
Met Arctic Monkeys drummer Matt Helders en Queens Of The Stone Age en Dead Weather lid Dean Fertita erbij is het viertal de studio in gedoken. Er is een album ontstaan dat zowel tijdloos als volledig nieuw aanvoelt. Het album komt 18 maart uit en bevat negen nieuwe nummers. De eerste twee nummers Break Into Your Heart en Gardenia zijn nu al te online te beluisteren.
Pop legt het ontstaan van het album als volgt uit: "I wanted to be free. To be free, I needed to forget. To forget, I needed music. Josh had that in him, so I set out to provoke an encounter-first with a carefully worded text, followed by a deluge of writings all about me. No composer wants to write about nothing. He got revved up and we had a great big rumble in the desert USA."