Nieuwe namen voor Netherlands Deathfest III
|

Netherlands Deathfest maakt zojuist de derde rij namen bekend. Na eerder al grote bands als Carcass, Angel Witch, Suffocation, 1349 en Claudio Simonetti's Goblin aangekondigd te hebben, komen daar nu onder andere headliner At The Gates, deathmetalband Grave en in de industriële blackmetalband Darkspace bij. Blood, Internal Bleeding, The Ominous Circle, Kjeld, Pulmonary Fibrosis, Hacavitz, Sacrificial Slaughter en Meat Spreader completeren deze aankondiging. De early birds zijn al uitverkocht. Weekendtickets kosten €122 (excl. servicekosten) en zijn al in de verkoop.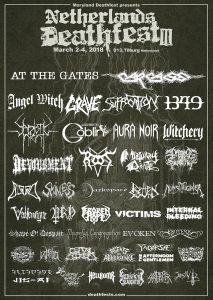 Netherlands Deathfest, de samenwerking tussen de organisator van Maryland Deathfest en 013 Poppodium, kondigt zojuist de derde rij namen aan. Hierbij zit ook headliner At The Gates. Deze Zweedse deathmetalgigant wordt gezien als uitvinder van de kenmerkende Gothenburg-sound. De band stopte in 1996, waarna de bandleden ook succes hadden met projecten als The Haunted, Disfear (in 2017 nog op Roadburn te zien) en Lock-Up. In 2014 kwam er een nieuw album, waarmee de doorstart van de band een feit was.
Het eveneens Zweedse Grave is ook geen kleine jongen. Samen met Dismember, Entombed en Unleashed worden ze gezien als 'The Big Four' van de Zweedse deathmetal; een knipoog naar 'The Big Four' in de thrash (Metallica, Slayer, Anthrax en Megadeth). De Zwitserse ambient blackmetalband Darkspace is maar zelden live te zien. De enige show die ze ooit op Nederlandse bodem speelden was op Roadburn Festival in 2010. De thema's van dit trio gaan in tegenstelling tot andere blackmetalbands niet over occultisme, maar over het universum en de cosmos.
Naast At The Gates, Grave en Darkspace, zijn ook Blood, Internal Bleeding, The Ominous Circle, Kjeld, Pulmonary Fibrosis, Hacavitz, Sacrificial Slaughter en Meat Spreader toegevoegd aan de line-up. Die ziet er vooralsnog zo uit:
1349 | The Afternoon Gentlemen | Agents Of Abhorrence | Altarage | Angel Witch | At The Gates | Aura Noir | Blood | Broken Hope | Carcass | Cauldron Black Ram | Claudio Simonetti's Goblin | Darkspace | Devourment | Dragged Into Sunlight | Esoteric | Evoken | Grave | Guttural Secrete | Hacavitz | Hellbomb | Internal Bleeding | Jig-Ai | Kjeld | Meat Spreader | Mortuary Drape | Mournful Congregation | Nunslaughter | The Ominous Circle | Pulmonary Fibrosis | Root | Rotten Sound | Sacrificial Slaughter | Sadistic Intent | Shape of Despair | Skinless | Suffocation | Urn | Vallenfyre | Victims | Witchery | Yacøpsæ