Netherbird – Hymns from Realms Yonder
|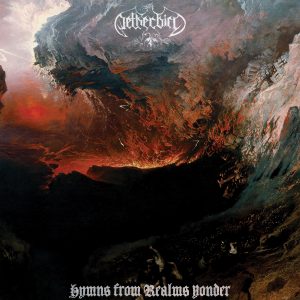 Netherbird is een Zweedse melodieuze black metal band opgericht in 2004. Na drie Full-lengths kwam er in 2014 een einde aan het bestaan van Netherbird. Zoals wel vaker het geval is kruipt het bloed waar het niet gaan kan en werd er een doorstart gemaakt in 2016. Met een nieuwe bassist in Micke André (o.a. ex-Valkyrja) en drummer Fredrik Andersson (o.a. ex-Amon Amarth) werd een nieuw album opgenomen 'The Grander Voyage', dat oktober 2016 verscheen. De nieuwste release, een compilatie CD genaamd 'Hymns from Realms Yonder', verschijnt op 7 april via Black Lodge Records.
Het album opent met twee b-kanten van singles 'Brazen Splendour' uit 2016, een bombastisch melodieus nummer dat niet echt tot de verbeelding spreekt. 'Sculptors and Spectres', een andere b-kant uit datzelfde jaartal heeft wat meer diepgang. Nummers van de langspelers vinden we niet op deze compilatie. De CD is volledig gevuld met b-kanten van singles en een drietal EP"s. De EP 'Abysmal Allure' en de EP 'Shadows and Snow', beide uit 2011 en de EP 'Covered in Darkness'.
Met vermakelijke nummers als 'Abysmal Allure', een lekker up-tempo nummer of de nummers 'Shadows and Snow' en 'Ode to the False (Esse Non Videri)' met flinke symfonische invloeden. Op de EP 'Covered in Darkness' staan een viertal covers waarbij de nummers 'As I Die' (Paradise Lost) en 'Alison Hell' (Annihilator) verrassend sterk klinken.
'Hymns from Realms Yonder' is een leuk album voor de verzamelaar, een album met aardige nummers en een paar leuke covers die de moeite waard zijn.
(75/100, Black Lodge Records)
Tracklist:
1. Brazen Splendour
2. Sculptors and Spectres
3. Myosotis Scorpioides
4. Abysmal Allure
5. Swedish Sadness (Sorrow's My Vessel)
6. Born Defiant
7. Shadows and Snow
8. Twilight Gushes Forth…
9. Nightwards
10. Ode to the False (Esse Non Videri)
11. As I Die
12. Nepenthe
13. Alison Hell
14. Firmament Vacation
15. Conquest, Love & Self Perseverance. The Gospel of Aptitude
16. Pillars of the Sky (Reprise)