Twister Sister drummer A.J. Pero overleden
|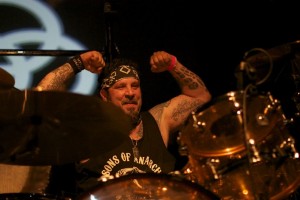 Anthony Jude 'A.J.' Pero, drummer van de Amerikaanse glam metalband Twisted Sister, is in de nacht van donderdag op vrijdag plots overleden. A.J. was lid van de New Yorkse band van 1982 tot en met 1986, van 1997 tot en met 1998 en van 2003 tot zijn overlijden. Pero speelde ook op Adrenaline Mob's laatste twee albums, zat in Cities en Circle Of Thorns en zat sinds kort, samen met Tod Howarth en John Regan (Frehley's Comet) in Four By Fate. Ook speelde Pero in The Foundry, samen met Blaze Bayley (Iron Maiden), John Moyer (Disturbed) en Rick Plester (Black Symphony).
De bekendste nummers van Twisted Sister zijn 'I wanna rock' en 'We're not gonna take it', van het album 'Stay Hungry'. 'We're not gonna take it' werd later nog extra bekend door de film 'Iron Eagle' (uit 1986). A.J. Pero was op het moment bezig met de voorbereidingen van een album met Four By Fate en een autobiografie, maar laat de hele rockwereld in shock achter.
A.J. Pero speelde regelmatig in de Benelux. Zo speelde hij met Twisted Sister onder anderen in 2012 en 2013 op Graspop, in 2010 op Bospop. Ook speelde de band in 1984 in de Stadsgehoorzaal in Leiden, met Metallica in het voorprogramma. Het is nog niet duidelijk waaraan Pero is overleden. A.J. Pero is 55 jaar geworden.